TUTORS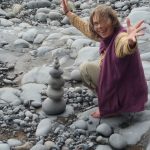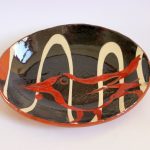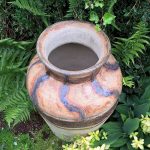 Jane Spray
Courses
Zen, Mindfulness, Nature and the Arts, with Jane Spray
3 Dimensional Ceramic Form
Pottery Afternoons
Creative Pottery (Evening Class)
Jane Spray trained as a landscape architect, and worked as an environmental artist and community landscape architect for a number of years before moving more towards ceramics and sculpture, including landscape and garden sculpture. She also has a current interest in tree planting projects as art, as well as for commemoration, community, conservation and to help ameliorate climate change.
She lives in the Forest of Dean, and teaches ceramics part time at Artspace Cinderford.
Jane has worked with a wide range of community, environmental and health groups, as well as enjoying working with and sometimes collaborating with other artists, architects and craftspeople. A couple of examples from her time as a community gardener with Groundwork London are shown here, and a couple of projects with Cinderford Artspace and Artshape Gloucestershire. Most projects are 'team efforts', and often the richer for it.
---
Kirsty Abraham
Courses
Start The Week Singing
Kirsty is a Natural Voice singing leader (see http://www.naturalvoice.net/ ) and a trained teacher.
As well as her Artspace workshop, Kirsty runs two weekly open-access groups in the Forest of Dean (Blakeney and Lydbrook).  She delivers singing for people with long-term lung conditions (eg COPD), in Lydney, now called Breathe in, Sing out (till recently known as Singing for Breathing), and in Monmouth, Singing for Breathing. Other singing is through Adult Education for people experiencing mental ill health, and work-based singing, on demand.
---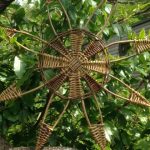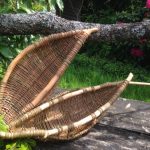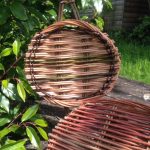 Lin Powell
Courses
Weaving With Willow
Lin lives in the Forest of Dean and consider herself very lucky to live in such a beautiful part of the country. Her passion, is all things willow. Weaving can be a fun but therapeutic and meditative craft as it is based on rhythms and pattern. Lin loves to pass on this ancient craft and is available to be booked for family days, hen do's, parties etc….
---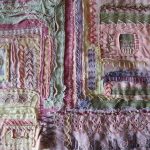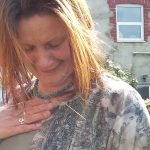 Lizzie Godden
Courses
New Clothes From Old
Developing Ideas For Textiles
Lizzie is a textiles artist living in the beautiful Forest of Dean She loves so many textiles techniques. For example hand and machine stitching, felt making, weaving, paper making, upcycling unwanted garments.
Lizzie loves making plant dyes to colour fabric and thread. She loves slow hand stitch, has been slowly stitching for a long time. She enjoys ecoprinting onto fabric and paper, ecoprinting onto garments, making cards, constructing items using ecoprinted fabric and paper. She loves to walk and gather – old rusty items, pieces of fallen bark in the woods, leaves, fruit – and use them as inspiration and for dyeing and printing.
---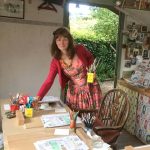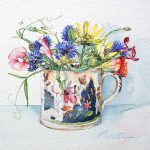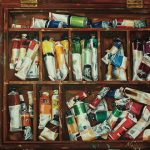 Mariette Voke
Courses
Drawing and Painting
I started out with drawing, and I've always been an artist. I trained in ceramics in Cornwall, I loved clay, it's variety, and the technical challenges that came with it. In my first workshop in Bristol and then here in the Forest of Dean, I made large garden pots and sculpture for nearly twenty years.  Then I started painting. These days, I divide my time between gardening, painting, and running art classes and workshops at my Forest of Dean, garden Studio and at local venues.
I've always loved the names on paint tubes, Alizarin Crimson, burnt sienna, cerulean blue and vermillion. my paintings often start with colour, inspired by colour combinations of still life subjects.
The paintings and drawings are about beauty in everyday things, favourite china, shoes, cotton reels and cutlery, the memories and recollections that they spark. I love to focus in on the small things, buttons, pins, lettering, and imperfections, creases, chips and cracks.
I began collecting vintage clothing, from jumble sales, as an eccentric teenager in the late seventies. I love to paint dresses and jackets linking them with objects to tell stories about where a dress came from or what happened on a day it was worn. I love the way things wear, and the reasons why, a frayed cuff, a pulled thread,  a lost or missing buttons.
I work in both oils and watercolours, liking them both equally for their very different qualities, choosing the medium that seems to best suit the subject. I stretch my own canvases in a traditional way, using raw linen, zinc tacks and rabbit skin glue. My watercolours use the contrast of precise pencil drawing and a loose and fluid colour. I paint most days, often working on two or three pictures at a time, for variety, one standing up at an easel and another sitting down at my drawing board.
Originally from Bristol, I have lived in the Forest of Dean for almost thirty years, with potter, Nigel Lambert
My paintings and drawings have been selected five times for the Royal West of England Academy and I have work in public and private collections.
I sell work through exhibitions, mainly in Gloucestershire, Herefordshire and the South West, and directly from my studio.
---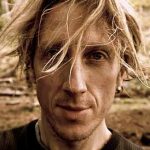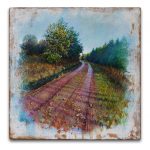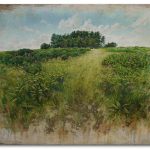 Warren Day
Courses
Drawing & Painting Inspired by Nature at The Pludds
Organic Art at The Pludds
Mixed Media Drawing & Painting
Earth Painting

Warren Day is a landscape painter specialising in trees, forests and rural landscapes predominately of the Forest of Dean, Wye Valley and surrounding area showing paths and trackways, undergrowth and scrubland, a variety of deciduous and evergreen trees, and forms of integrated man-made activity.
What distinguishes his work are the real earth samples that are integrated into the artwork adding texture and literally a piece of the scenery reinforcing the connection between the landscape and the painting. On closer inspection one can see small fragments of leaves, seeds and other organic matter within this 'living painting medium'. Mixed media and gouache painting capture the exquisite and highly detailed beauty.
From university to commercial illustrator working for clients such as Punch magazine and the Radio Times, Warren has spent the last 23 years as an Art and Design teacher.  He lives in the Forest of Dean with his family where he tutors in an exciting local arts centre and works from his studio located on the edge of the forest.  He exhibits regularly and enjoys cross country running through this inspirational landscape that is a continuous reference for his paintings.
---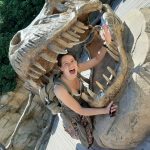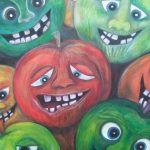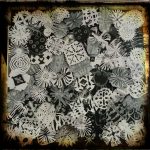 Jo Jarratt
Courses
Discover Drama
Get Crafty with Theatre Set and Prop Design
Orchard Trust Wednesday

Jo Jarratt's love of Art extends across a broad spectrum!  Back in the day of college choices she was torn between Illustration and 3D Art.  Her love of film and special effects, saw her qualify as a Modelmaker in Oxfordshire, before returning to Gloucestershire to work in Primary Schools teaching both Art and Drama.  
As well as teaching, Jo worked on commissioned pieces large and small, ensuring her illustrative work continued.
The day she came to Artspace was the beginning of many new things.  Jo qualified as a Tutor to work in Adult Education and now runs a mix of classes, both 2D and 3D.
She is a Co-ordinator on the MindSCAPE project – working with people with dementia and their carers.  She runs the Art for Families class and Studio Sessions, where she is an Adviser on The Arts Awards.
Her love of Drama has seen her become the tutor for Discover Drama.
She has worked on a range of animation projects and her outreach work covers schools and residential homes in the Forest area.
Jo lives in the Forest of Dean with her Husband, Two Children and one hound.