COURSES AT ARTSPACE CINDERFORD VENUE
Come to Artspace to enjoy a group workshop in our fully equipped art studio in Cinderford.
Enrolment: To express your interest in a place or for more information, please email sue@artspacecinderford.org and provide your name, phone number and the title of the course you are interested in and we will get back to you.
Cost: £80 (*£45 concessions) for an eight week course of 2hr long workshops, including all materials and resources.
*Concessionary rates apply for people with disabilities or on means tested benefits.  Courses are FREE for people with fewer than 5 GCSE's (level 2).  Please contact us to discuss your eligibility.
Click here to download a copy of our Spring 2022 programme
MONDAYS
Volunteering in the Arts, with Angie Burgess
*FREE*
Starts Monday 31st January 2022 / 6 weeks with half-term break
10:00am – 12:00pm
If you would like to learn and develop the skills required to volunteer for Artspace, then this is the course for you. During our sessions we will learn and develop basic IT skills, complete general admin tasks, learn the basic financial aspects of fundraising and use a variety of creative mediums to help facilitate our goals. We will also use fun, educational games for team building and will learn to work together to achieve our aims. Whilst we will focus on learning new skills and developing them, this course will predominantly be about fun as we identify ways in which we can perform a successful volunteering role, hone our organisational skills and build confidence and team spirit within the group. Ultimately we will put our skills into practice and work in collaboration to organise a fund raising initiative and to gain some experience and benefit Artspace. This course is suitable for all skill levels and will be a fun but productive collaboration.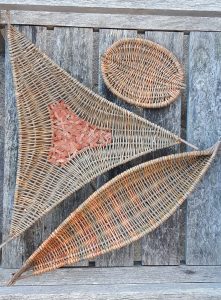 Willow Weaving Frame Baskets, with Helen Parkinson
Starts Monday 31st January 2022 / 8 weeks with half-term break
10:00 am – 12:00pm
During this Spring term we will be focusing on creating a beautiful and useful frame basket using a variety of different coloured willow. There will also be an opportunity to complete a variety of small projects for your home and garden.  At the end of the course, you will have a good basic knowledge of Willow types and how to prepare them, weaving tools and how to use them and the traditional techniques involved in constructing a frame basket. You are welcome to bring along a favourite pair of secateurs but tools will be provided.
---
TUESDAYS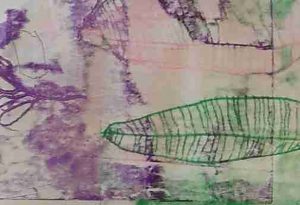 Exploring Printmaking, with Melanie Clarke
Starts Tuesday 1st February 2022 / 8 weeks with half-term break
10:00 am – 12:00pm
Printmaking is a very diverse subject and by exploring the many different ways of making a print you can develop your own unique language. Printing can be defined as inking a surface and transfering it under pressure onto another surface. We can explore not only printing onto different papers but perhaps onto fabric or other smooth surfaces. We can explore conventional and unconventional ways of making the matrix to print from and experiment with printing by hand and by using an etching press. We can start with monoprinting, a simple way of transfering ink from a plate onto paper and continue onto constructing surfaces to print from. We will experiment with overprinting and layering colour using different papers and scale perhaps culminating in a collaborative piece of paper sculpture! Nothing is wrong and everyone can have a go even if you think you can't draw!
---
WEDNESDAYS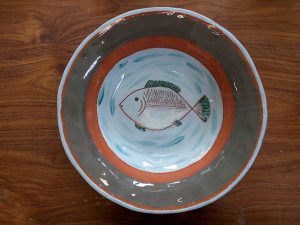 3D Ceramics, with Jane Spray
Starts Wednesday 2nd February 2022 / 8 weeks with half-term break
10:00am – 12:00pm
A ceramic class for both beginner adventurers in clay and those with previous experience. The emphasis this term will be on slab work, with students making a variety of boxes, containers, vases, even sculptures, incorporating and exploring techniques of printing on slabs of clay, for some surprising results. The overarching theme will be inspiration from nature.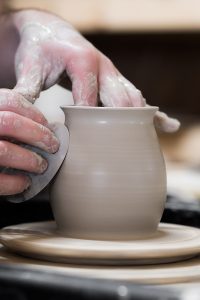 Evening Pottery, with Jane Spray
Starts Wednesday 2nd February 2022 / 8 weeks with half-term break
6:45pm – 8:45pm
If you cannot make it to Artspace during the day, then this is the evening class for you! Relax and enjoy using clay in a creative atmosphere. A range of making and decorating techniques will be explored throughout the course and you will be encouraged to work on and develop your own projects.
---
THURSDAYS

Fun With Fabrics, with Lizzie Godden
Starts Thursday 3rd February 2022 / 8 weeks with half-term break
11:00am – 1:00pm
Enjoy using recycled plain and patterned fabric to make an item, for example a cushion cover, a scarf, a throw. Using print blocks, paint, hand and machine stitch, patching, we'll have fun with fabric.
---
FRIDAYS

Discover Drama, with Jo Jarratt
Starts Friday 4th February 2022 / 8 weeks with half-term break
10:00am – 12:00pm
Have you ever wanted to have a go at acting? Do you want to develop your confidence? This course offers adults the chance to explore and develop their communication and performing skills; using improvisation, characterisation, vocal and physical exercises in order to challenge and excite! There will also be the opportunity to devise your own piece of theatre for performance.
---
Click here to see the gallery of previous adult courses at Artspace Cinderford