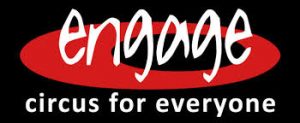 Engage Circus for Everyone looks forward to running our regular weekly classes again once the current Covid -19 situation changes and we are able to re-open.
Whilst the New Mercury building remains closed, Engage will put ideas and links to videos on this page and any updated information will be included.
Please contact Sally at sally@artspacecinderford.org or Nix at nix@nixbarnaville.com for further information or if you want to get in touch.
---
Watch 'Hula Hoop From Cardboard Boxes' Video
---
Watch 'How To Make Hula Hoops From Plastic Tubing' Video
---
Watch Intro to Juggling Video
https://www.youtube.com/watch?v=MV9vYCrrIjY&feature=youtu.be
---
Making Your Own Circus Comic Strip
Click here to download the template for making your own circus comic strip
---
How To Make Sock Poi
Elly from Circomedia shows you how to make your very own sock poi from…well, socks! Once you've made them, she shows you basic moves to try with your new equipment. Elly also demonstrates some longer sequences for you to work towards!
---
Make Your Own Hula Hoop
Click here to follow School of Larks' easy DIY tutorial and learn to make your own hula hoop!
---
Banana Circus Juggling
Video
Daniel Simu and Christopher Owston show all standard 3 ball juggling tricks in alphabetical order. Which trick is your favorite?
---


.