ARTIST PROFILE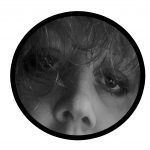 Rachel Lewis
Q&As
Hi Rachel. Thank you so much for all your wonderful submissions to the Artspace Gallery, and for taking the time to talk about you and your work.
Q – What is your background?
A – I was born at Lydney Hospital and grew up in the Forest of Dean.  After I graduated from University, I worked for a Tour Operator in Stroud, and then later I worked at the Forest of Dean District Council until the age of 28. Unfortunately at this time, I fell very ill with a viral infection and I went on to develop severe ME, and have unfortunately been bed-bound ever since and I am unable to work.  I have a very poor quality of life and I am unable to walk or care for myself, but art is my sanctuary when I am well enough to do it.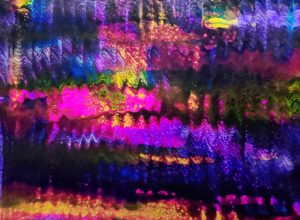 Q – How did you get into art?
A- I remember my Mum telling me about the parents evening at my primary school, and that my teacher told her that she should always encourage me to develop my artistic ability.  I never really did until about a year before I fell ill where I just used to do the occasional charcoal sketch.  After I fell ill in 2001, I didn't do any again until about 2015, (although I did start making wire jewellery around 2005 and managed to do that for about 2 years), when I started pastel painting.  I managed to do the occasional painting now and again for a couple of years, then 3 years ago I just became too ill again and for most of this three-year period.  I couldn't even talk at all or open my eyes.  I have made some minor improvements this year (2020), so I've been able to paint again since March.   I am entirely self taught and have learnt through books and videos.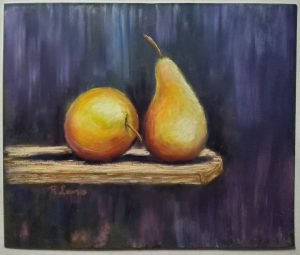 Q – Where do you live and does living there influence your creative process or provide inspiration in another way?
A – I live in Lydbrook in the Forest of Dean, I'm lucky enough to live in a cottage on a hillside,  with absolutely spectacular views.  Unfortunately as I am completely bed bound with extremely limited mobility,  I have not been able to go downstairs in my house for 15 years now,  I've even forgotten what shade of blue the sky is and how green the grass is in natural light.   As I am unable to tolerate any natural light, so I cannot even look out of the window.  I have to rely on memory and reference for inspiration,  but I particularly love photos of open landscapes, simple still life and portraits.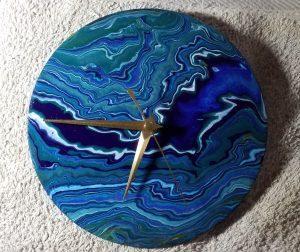 Q – What is your chosen subject and why?
A – I like to paint a wide variety of subject matter as I am so inspired by the photographs I see,  so it really doesn't matter what the subject is,  my choices are more about colour, light and whether I like the composition as I am not able to set up my own compositions so working from a photograph is the only option for me.  I find that landscapes are the most challenging subject matter for me, but I love animal and human portraits too as well as still life and abstracts. I would like to think that I am experimental with style and subject matter,  and hopefully you can tell this because my other interests include jewellery making, card making, glass engraving, card making, resin art and clock making.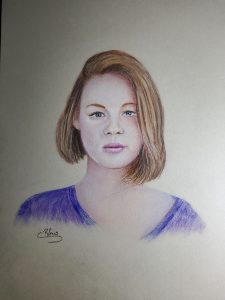 Q – What medium and materials do you work with? How did you decide on this medium?

A – I was always so inspired by a local pastel artist, Paul Burgess, who was a friend of the family, whose work sold all over the world ,and I remember seeing those paintings in my late twenties and really decided then that pastels would be my first love.  Having said that, in the time since, I have started working a lot with other mediums such as watercolours, acrylics, coloured and pastel pencils, charcoal and oil pastels. Just this year I have also started glass engraving, resin art and clock making too!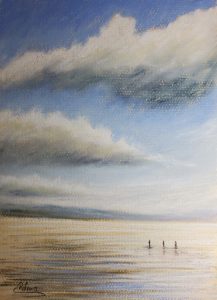 Q – Where do you get your inspiration from?
A – Mainly from my imagination or from photos that I download from the internet.  I am inspired by many living artists too and there are some wonderful artists on YouTube which also hugely inspire me.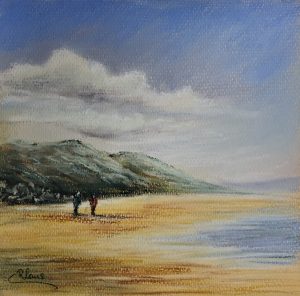 Q – How would you describe your style? How has your style evolved over time, and what has influenced its development?
A – I love many different variations of style and so I experiment a lot.   I don't feel as if I have a particular recognisable style like some artists do.   I am so inspired by so many different techniques which I love to experiment with , for example,  abstract paintings,  but then I also love the more traditional style of painting too and some realism inspires me. Perhaps in time as I become more experienced,  I will develop a particular style, but at the moment I like to be free from a stereotypical style.  I do feel in general I have become  more loose with my painting and I do love painterly effects and the optical illusion of suggestion.  I think seeing  the work of some of the American pastel artists has influenced my desire for looser mark making.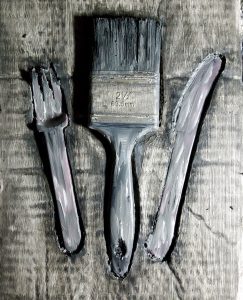 Q – What is your creative process?
A – I usually see something that inspires me,  such as a photograph or a painting by another artist, and I try to conceptualise that idea in my head, and think over the idea thoroughly about how I want the finished piece to look.  Having severe ME means that I am only able to open my eyes for a limited period each day,  which is generally about 4 hours a day,  the remaining 20 hours in the day, I have to lie in complete darkness and silence, so this is when a lot of the planning is done.  I also can only manage about 30-60 minutes of art on a good day.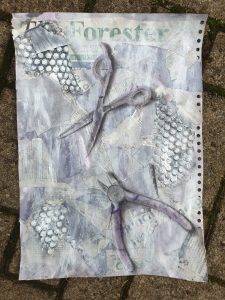 Q – What's your studio like?
A – My studio is essentially my bed! And it is getting very overcrowded with art materials!   I would love a purpose built art studio with a bed in it,  but unfortunately that is out of the question as I am just too ill to be moved at the moment.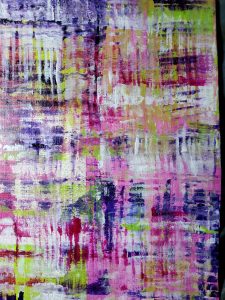 Q – Are there fellow artists who inspire you, who either work with the same media as you, or in other fields?
A – I love so many other artists, both living and deceased.   I love some of the work by the old Masters, and these include Rembrandt, Turner (his later works), Gerhard Richter (still living) , Gwen John and Edgar Degas to name a few of my favourites.  There are also some fantastic artists who teach on Youtube, who offer absolutely fantastic tutorials and a wealth of inspiration.
Q – How do you know when a piece is finished and when it's the right time to stop?

A – I usually decide when a piece is finished either when my energy is flagging, or when I start fiddling with the details and start to think that if I carry on doing this I will ruin it!  I usually run out of energy first though and then have to finish it another day if it is incomplete.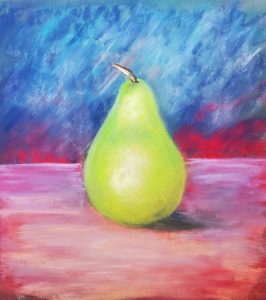 Q – Is there an artwork you are most proud of? Why?

A – No, I am very self critical and I am never happy or confident with any piece that I have produced to date.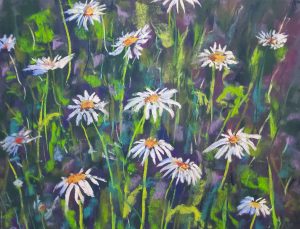 Q – Are there any other art forms that you would like to try?

A – Not at the moment,  I already have a huge list of artistic interests, so I don't have enough energy (or room in my bedroom ) for any more.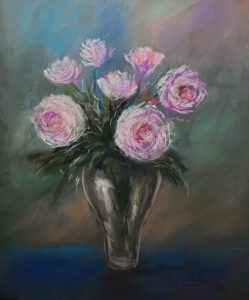 Q – What are you working on at the moment?

A – I skip around with so many ideas every day,  for example,  last week I drew a still life in black and white charcoal and I have just completed some abstract paintings in acrylics.  I am planning some more portraits as I have only completed couple or so recently.  The medium and subject matter changes every day,  I go wherever the mood takes me.  I am also working  on a dog portrait which I am engraving onto glass, as well as some clock projects which are works in progress, and I always fit in a bit of jewellery making inbetween.   Health permitting, I will also be doing an Artspace distance learning course in November 2020.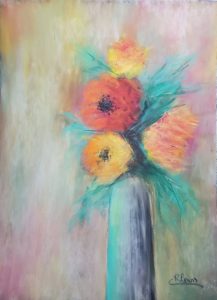 Q – Do you sell your art and if so where?
A – I don't sell my artwork and usually give it away as gifts to my friends and family, and ask them to make a donation to a charity of their choice if they wish to.