ARTIST PROFILE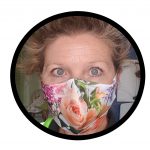 Cherry Lyne
Q&As
Hi Cherry. Thank you so much for all your wonderful submissions to the Artspace Gallery, and for taking the time to talk about you and your work.
Q – What is your background?
A – At school I literally flipped a coin between going on to study one of my two loves – art or geology. Art lost. Big mistake! So I was a Geologist, then when my children came along I ran a library, worked in schools, jeweler, bead maker… lots of things.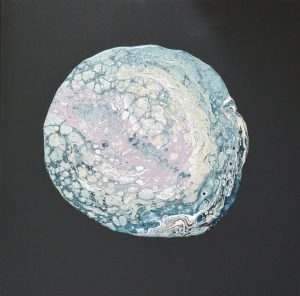 Q – How did you get into art?
A – Always been good with my hands. And always wanted beautiful things I couldn't afford, so wanted to make them myself, only better!
Q – Where do you live and does living there influence your creative process or provide inspiration in another way? Are there any other places that inspire you?
A – I live in the Forest of Dean but have lived in cities and by a loch in Scotland. There is always something that connects eye to brain to heart to soul.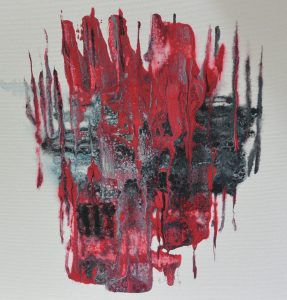 Q – What is your chosen subject and why?
A – I have no fixed subject and I consider myself the eternal student. Observing is learning, isn't it? Obviously some things work for me and others don't. I love trees and distance but sometimes I want abstracted straight lines and other times the precision of a watercolour orchid.
Q – What medium and materials do you work with? How did you decide on this medium?
A – For people and things that are alive it's pencil, paper and watercolour. The human body or plant life seems fragile and ephemeral to me; suited to the delicacy of the medium. My more abstracted work is all acrylic, which I used to hate for its lumpen garish plasticity, but I'm learning to wrangle it into something that I'm satisfied with and I'm enjoying the journey.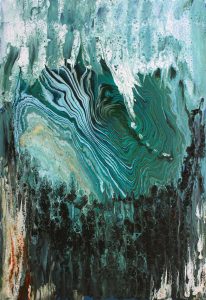 Q – Where do you get your inspiration from?
A – People, working with other artists, exhibitions, colours, geometry, nature and sometimes I don't know. Sometimes I'm driven, other times I'm in the doldrums.
Q – How would you describe your style? How has your style evolved over time, and what has influenced its development?
A – I'm still chaotic, I've just added a bit more competence to it.
Q – What is your creative process?
A – These days I do a lot more planning before attacking things. I'm not great at writing things down. I do work from photos or at least use photos as inspiration.
Q – What's your studio like?
A – Oh lorks you don't want to know.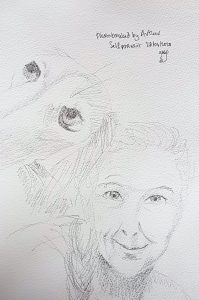 Q – Are there fellow artists who inspire you, who either work with the same media as you, or in other fields?
A – That's still evolving with me. I can tell you who I think's overrated if that helps?
Q– How do you know when a piece is finished and when it's the right time to stop?
A – I'm not very good at that, and I've ruined quite a few things by overcooking it. I'm trying "less is more" as a mantra. As a watercolourist, I really should have grasped that by now.
Q – Is there an artwork you are most proud of? Why?
A – I'm over critical, so I'd struggle to say yes. There's a couple of things I'm happyish with at the moment. One is a portrait I did of my daughter. She's just left home, so it's sentimental. She hates it. The other is a large fluid flow that ended up like a little lonely planet. Geology and art all in one.
Q – Are there any other art forms that you would like to try?
A – My daughter (Liberty Lyne) is a proper lithography printmaker which other than being messy (I don't like mess and she is always covered in something or other) is a fascinating and technical subject.
Q – What are you working on at the moment?
A – Fluid Flow Acrylics. Technical, but with an air of mystery…