DISTANCE LEARNING (ONLINE) COURSES 
Artspace's Adult Education funded 'Distance Learning' programme has been designed to enable home learning. Courses are 8 weeks long and are delivered on ZOOM. Artspace will send a package of art materials directly to your home and you can participate in a weekly zoom workshop and receive follow up support via telephone and/or email.
Enrolment: To express your interest in a place or for more information, please email sue@artspacecinderford.org and provide your name, phone number and the title of the course you are interested in and we will get back to you.
Costs:  £45 (*£25 concessions) for an eight week course of hour long zoom workshops, including all materials and resources.
 *Concessionary rates apply for people with disabilities or on means tested benefits.  Courses are FREE for people with fewer than 5 GCSE's (level 2).  Please contact us to discuss your eligibility.
Please note: To help us reduce cash-handling during the Covid-19 pandemic we will ask that you pay tuition fee and materials charges in full, at the start of the course.
Click here to download a copy of our Summer 2022 programme
MONDAYS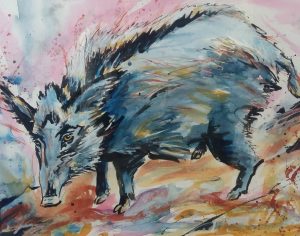 Discover Painting – Animals, with Aileen Wright
****FULLY BOOKED***
Starts Monday 9th May / 8 weeks with half term break
3:00pm – 4:00pm (on Zoom)
In this course we will examine how animals have been represented in art throughout history, noting our paradoxical relationship to them, as well as drawing inspiration from some contemporary animal artists. We will produce drawings and painted sketches inspired by the artists looked at and we will experiment with different styles and painting techniques. Other media, such as collage, will be brought into our paintings to produce vibrant works of art that celebrate animals in all their beauty.
---
THURSDAYS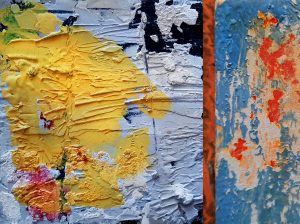 Mixed Media Textures, with Warren Day
Starts Thursday 5th May / 8 weeks with half term break
10:00am – 11:00am (on Zoom)
Have fun experimenting with a range of different and sometimes unusual media and materials such as plaster, acrylics, fabrics and more to create a selection of textural abstract images. We will look at other artists who have focused on similar materials and aesthetics in their work and also develop our own pieces. The aim is to produce surfaces that have several techniques and mixed media worked into them to achieve tactile but also visually interesting outcomes. During the final two sessions of this course, you will have the opportunity to develop a personal outcome further and produce a response which is either completely abstracted or you may wish to incorporate the skills you gained into your own existing work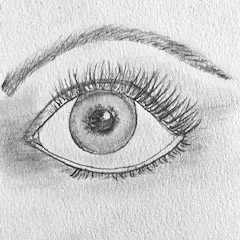 Introduction to Drawing, with Gabriel Parfitt
Starts Thursday 5th May / 8 weeks with half term break
1:00pm – 2:00pm (on Zoom)
This introductory course to drawing will encourage you to explore and develop the skills and techniques needed to draw from life to develop your own unique style using a range of media and materials.
---
FRIDAYS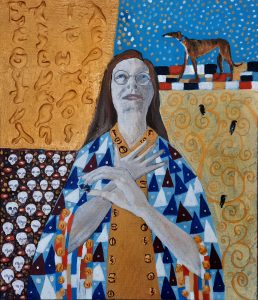 Shiny Happy People, with Warren Day
****FULLY BOOKED****
Starts Friday 6th May 2022 / 8 weeks with half term break
2:00pm – 3:00pm (on Zoom)
Using a variety of metallic media and materials such as gold leaf, metallic papers, metallic paints, and associated techniques, we will explore the work of artists and cultures that have celebrated metallic colours in their work from the stunning mosaics of the Byzantine period to the gorgeous lusturous golden paintings of Gustav Klimt. Towards the end of the course, you will have the opportunity to develop a personal outcome in response to the initial workshops and produce a final outcome that includes the themes and techniques that you have enjoyed most.
---
Click here to see the gallery of previous adult courses at Artspace Cinderford