ARTIST PROFILE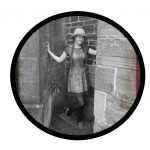 Marianne Jarratt
Q&As
Hi Marianne. Thank you so much for all your wonderful submissions to the Artspace Gallery, and for taking the time to talk about you and your work.
Q – What is your background?
A – I have lived in the Forest of Dean all my life and am currently sixteen years old. I studied at Five Acres High School in Coleford and am now officially a student at Hereford college of Arts. I am taking a level 3 diploma in Art and Design and am absolutely loving it!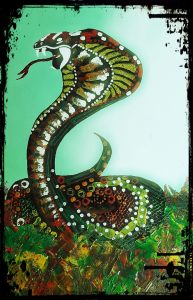 Q – How did you get into art?
A – Both of my parents are avid artists, so I have been brought up in a creative household from a very young age. I've always had a passion for art and studied it at school, as well as completing both my Silver and Gold Arts Awards. I decided to pursue my creative journey by enrolling at Hereford College of Arts and continue to create a range of arty pieces, including those in the Artspace gallery.
Q – Where do you live and does living there influence your creative process or provide inspiration in another way?
A – Having lived in the Forest for my entire life, I am heavily influenced by the woodland itself and the wildlife within it. I have a dog named Gypsy who I walk regularly, so I spend a lot of time outdoors exploring the forest and taking photos that I can then incorporate into my artwork. I adore animals and nature itself, so I tend to focus lots of my work around them.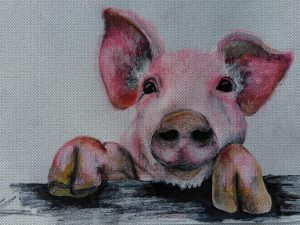 Q – What is your chosen subject and why?
A – I don't really have a chosen subject. I guess you could say 'nature', but I kind of do whatever.
Q – What medium and materials do you work with?
A – As a student, I spend most of my time working with a range of different materials and techniques, many of which I have never tried before. Nevertheless, one of my chosen mediums is charcoal with watercolor pencil to add finer detail over the top. I love working in black and white as it is an easy way to focus on tone and including 3D aspects within my work. I also enjoy working in mixed media to see what fantastic pieces I can produce.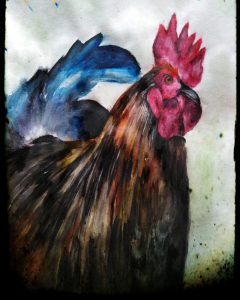 Q – Where do you get your inspiration from?
A – I get lots of inspiration from the forest, as well as from research into World Religions. I find the subject fascinating and base lots of my artwork around the beliefs of different cultures. I studied Religion at school and have managed to incorporate my knowledge of it into many of my recent works.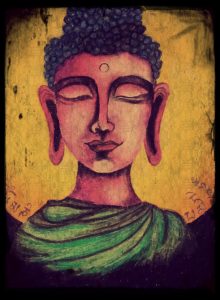 Q – How would you describe your style? How has your style evolved over time, and what has influenced its development?
A – I am a bit of a perfectionist and I like my work to look as realistic as possible. At HCA, we are taught to focus on simplifying our work to express hidden meaning, but my true style is far more precise and detailed. I expect by the end of the year, my style will have changed slightly due to the influence of my tutors at college. I spend a lot of time focusing on including bright vibrant colours within my work now, whereas before I mainly used charcoal.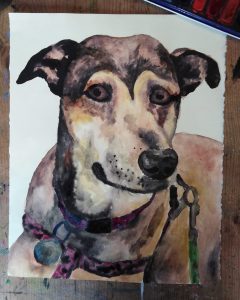 Q – What is your creative process?
A – I tend to mind map a selection of ideas before I start to properly plan what I am going to create. If I am at college, then I research a few other others and gather inspiration from their work; if I am at home, I merely start creating and hope for a good end result. I usually sketch out my piece before I start working on it.
Q – What's your studio like?
A – I don't have a studio, unless you count my classrooms at college or my kitchen table. I create most of my own work at home, surrounded by my family. It is good to have silence when annotating my work, however when creating the work itself, I prefer to be in the presence of others so as that I don't wind up feeling lonely.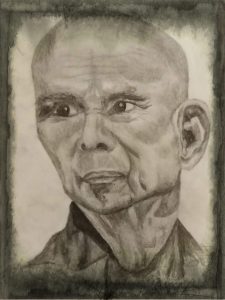 Q – Are there fellow artists who inspire you, who either work with the same media as you, or in other fields?
A – I get lots of inspiration from my parents and other students at college. I work best when I have competition, so I tend to find other artists, whom I know, to compete against in order to make my work as fab as possible. I am often inspired by the people around me, especially those with similar styles to myself.
Q – How do you know when a piece is finished and when it's the right time to stop?

A – Sometimes I just know when a piece of work is finished; sometimes I need other's opinions to work that out. I try not to overwork my art as I don't want to ruin it.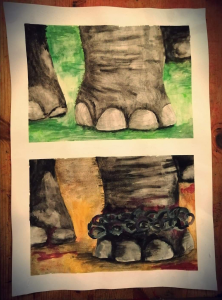 Q – Are there any other art forms that you would like to try?

A – I will get the opportunity to try out all different art forms at college. I am particularly excited to attempt to work with glass as it is something that I have never tried before.
Q – Is there an artwork you are most proud of? Why?

A – I am most proud of my charcoal pieces because they are the most realistic looking that I have managed to create. They are full of detail and form so I love them! They are displayed in my bedroom, one of which is an A1 piece.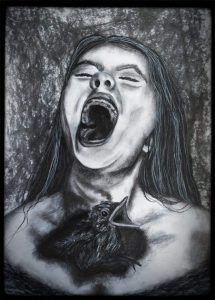 Q – What are you working on at the moment?

A – Currently I am focusing on my college work. Every week I do a different project. I have recently been working with metal, both 2D and 3D sculpture, as well as working with projection and Photoshop.