ARTIST PROFILE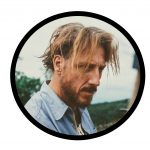 Warren Day
Q&As
Hi Warren. Thank you so much for all your wonderful submissions to the Artspace Gallery, and for taking the time to talk about you and your work.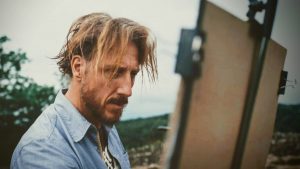 'Forest Ship Grazing' by Warren DayQ – What is your background?
A – I originally studied for a degree in Illustration & design and after completing this I worked as an illustrator for various books and magazines such as Punch magazine, Radio Times and The Oldie. After a few years I decided to go into teaching and so gained my PGCE teaching qualification and taught A-level at a further education college for 23 years.
Q – How did you get into art?
A – As a child, I was always drawing and painting or making things such as model spaceships and miniature film sets. As a teenager, I studied A-level and it was here that I was introduced to the potential of gouache painting.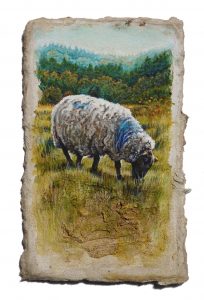 Q – Where do you live and does living there influence your creative process or provide inspiration in another way?
A – I live on the edge of the forest of Dean and I love to regularly walk and run through this inspirational landscape and see the subtle changes and detail throughout the seasons.
Q – What is your chosen subject and why?
A – I am a landscape painter fascinated by trees, forests and rural landscapes predominately of the Forest of Dean, Wye Valley and surrounding area.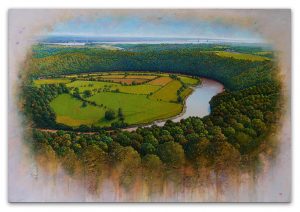 Q – What medium and materials do you work with? How did you decide on this medium?

A – What distinguishes my work are the real earth samples that are integrated into the artwork, adding texture and reinforcing the connection between the landscape and the painting. On closer inspection you will be able to see small fragments of leaves, seeds and other organic matter within this 'living painting medium'. Gouache painting captures the detailed beauty of the landscape.  It is a really versatile medium and I particularly like its' opaque qualities giving a solid, flat area of colour and then mixing it  with other media.
Q – How would you describe your style? How has your style evolved over time, and what has influenced its development?
A – I attempt to capture the unique beauty of the Forest of Dean and Wye Valley in a detailed manner, closely observing the different shapes of nature and any integrated man-made structures.  The final paintings have a mix of expressive marks and fine detail with a hint of hazy nostalgia and seasonal colours.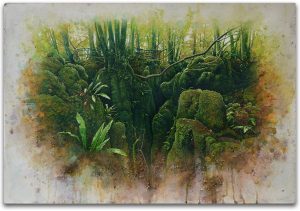 Q – What is your creative process?
A – Once I have discovered a potential painting, I take several photographs and drawings to establish a strong composition.  Back in the studio, I prepare my boards with several coats of gesso to exploit its textural qualities and apply the earth samples mixed in a clear acrylic medium. I begin the lengthy drawing stage followed by an under painting and final detailed layer, whilst blending the natural earth areas into the painting.  I can use a range of paintbrushes from a large decorating brush right down to a 10/0 miniature brush for really fine detail! I use a local craftsman to make my frames and the final outcomes are displayed in the galleries that represent me.
Q – What's your studio like?
A – A few years ago I converted our internal garage into a studio.  It has a sink, long workbench, a north facing window which is great for painting and storage for all my art and teaching materials. I share this room with my dog and he sits beside me whilst I paint and watch films and listen to music. Having a dedicated space to create my paintings was a significant point in my painting career.
Q – Are there fellow artists who inspire you, who either work with the same media as you, or in other fields?
A – Teaching has exposed me to hundreds of amazing artists and I am constantly inspired by everything I see from spontaneous expressive abstracts to historical pieces.  It all helps to give me ideas and possible combinations.
Q – How do you know when a piece is finished and when it's the right time to stop?

A – I get my wife to check it lol! She has an art background and I always trust her judgment.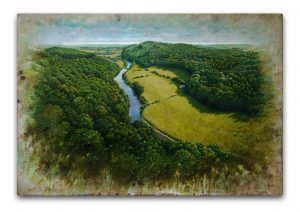 Q – Are there any other art forms that you would like to try?

A – As a teacher, I'm often researching and testing various media and materials and looking into other creative disciplines and I love it all.  If I weren't a painter, I'd probably see myself creating model sets for animation films or exploring film making.
Q – What are you working on at the moment?

A – I am currently working on a commission to capture a iconic local spot somewhere in the forest.  Follow my Facebook and Instagram pages to see the final outcome!
https://www.facebook.com/warrendaypaintings
https://www.instagram.com/warrenday.paintings/