ARTIST PROFILE
Lizzie Godden
Q&As
Hi Lizzie. Thank you so much for all your wonderful submissions to the Artspace Gallery, and for taking the time to talk about you and your work.
Q – How did you get into art?
A – I've enjoyed making for as long as I can remember – as a child I knitted, collaged, stitched. My mother is very creative and resourceful, and so I grew up with a lot of creativity around me. At the age of 30 I started taking my love for creativity more seriously and enrolled on part time courses in textiles and book making.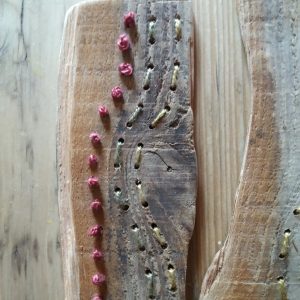 Q – Where do you live and does living there influence your creative process or provide inspiration in another way?
A – I live in the Forest of Dean, and yes this is my main source of inspiration. I walk into the woods near home a lot, just about every day. I have also been inspired by the River Severn, by the rivulets, the river side and the river bed. The huge sky with its very many colours is another inspiration, as I have a south west facing house, at the top of the hill, and so I am often in awe of the colours of the evening sky.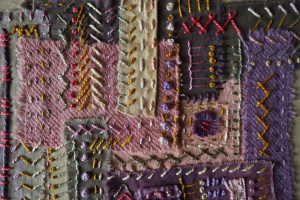 Q – What is your chosen subject and why?
A – My main, current subject is leaves and the ever changing colours of the seasons. Living semi rurally, having a garden and walking in the woods, I enjoy their constant change.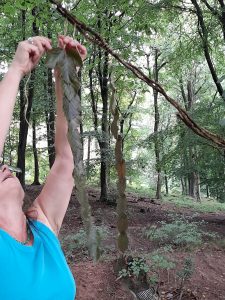 Q – What medium and materials do you work with?
A – I mainly use fabric and thread. I use recycled cotton, as the impact of the cotton industry on the environment upsets me. I make plant dyes, and I dye fabric and thread. I also make paper and use recycled paper and card. I love hand stitching into fabric and into paper.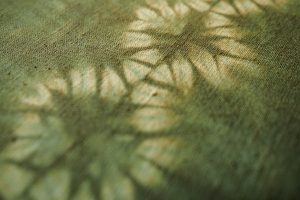 Q – How would you describe your style? How has your style evolved over time, and what has influenced its development?
A – I enjoy taking time when stitching and making pieces of work. I love the process, often finding it quite meditative. I have been making plant dyes for nearly 30 years now, the process is time consuming, but I enjoy the gathering of plant materials and the combination of having an idea but not knowing what colours the plant dyes will give.
Over time I have enjoyed using more techniques using plant materials in my art. I have learnt and love the technique of "eco-printing" – printing with leaves without adding synthetic inks. I enjoy stitching into wood and into leaves.
I am lucky and 3 years ago I was invited to join a group of international artists, "Natural Selection". With this group I have exhibited my work, and this has given me the drive to develop and focus on my work.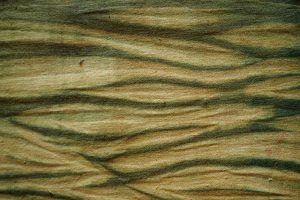 Q – What's your studio like?
A – I am lucky and have a double bedroom in my home which is my studio. It's a bit full of stuff though!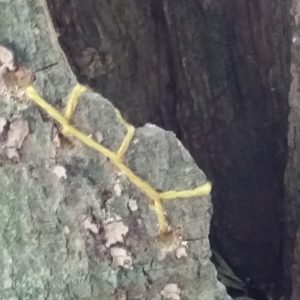 Q – Are there fellow artists who inspire you, who either work with the same media as you, or in other fields?
A – I am very inspired by the work of Alice Fox, David Nash, Chris Drury, Richard Shilling, Rosalind Pounder, Caroline Bell.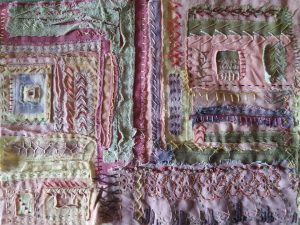 Q – Are there any other art forms that you would like to try?

A – I would really like to develop my book making skills, and also to work with wood sourced locally.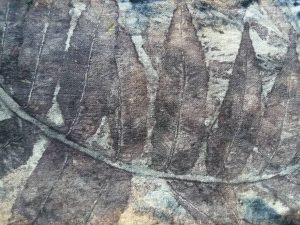 Q – What are you working on at the moment?

A – I am currently enjoying working into wood in situ, in the woods – both stitching into and carving into dead trunk and branches.