ARTIST PROFILE

David Seed
Q&As
Hi David. Thank you so much for all your wonderful submissions to the Artspace Gallery, and for taking the time to talk about you and your work.
Q – What is your background?
A – I have a degree in contemporary crafts, having specialised in ceramics and craft metalwork.  When I graduated I was building sculpture and automata.  Lack of opportunities in the arts in the late eighties meant that I did factory assembly work before getting a job as a carpenter and model maker for a display and exhibition company.  In 1991 that post ended and I joined the team at Cinderford Artspace which Sara Weaving had just set up as a cooperative in the old Royal Forest of Dean College ceramics studio on Station Road.  I taught ceramics and life drawing there as well as teaching art in a variety of community settings, and undertaking sculpture commissions.  I also worked for Gloucestershire Artshape and taught life drawing at Gloucester's Guildhall Arts Centre, did youth work, taught ceramics in residential homes, and had an eighteen year career in social services finishing as a care manager.  For the last eight years I've been a self-employed artist and carpenter.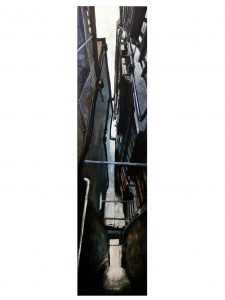 Q – How did you get into art?
A- I was into drawing from when I was a kid.  It was always part of my identity up until I started working for social services.  I then had a twelve year hiatus where I didn't do any art at all.  Within two weeks of leaving my job in the Local Authority I was painting.  Go figure.
Q – Where do you live and does living there influence your creative process or provide inspiration in another way?
A- I live in Gloucester.  I know the town like the back of my hand and the older parts influence me massively, as does the whole county, hills, forest and river.  I quite like the concept of psycho-geography and how places and their history inform social and narrative meaning.  This place is in my soul and I draw a lot from the place and not just in terms of my objective landscapes.  The more magic realist stuff is drawn from a sense of place as well.
Q – What is your chosen subject and why?
A – My subject matter tends to fall into two main camps.  I do objective urban landscapes and animal studies, as well as more subjective magic realist figurative work.  The latter is often informed by mythology, pagan archetypes, and poetry.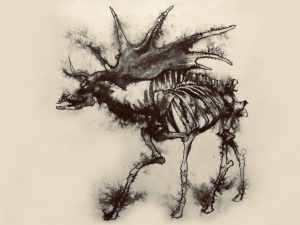 Q – What medium and materials do you work with?
A – Currently I tend to paint in acrylics and do my drawing using a combination of charcoal, wet on wet ink using a sharpened stick, and conte.  Paint is relatively new as a material for me only having used it for eight years or so.  I decided on acrylic paint because of its immediacy although I really need to be brave and get some oils.
I also use simple digital graphics programmes like Brushes for iPad.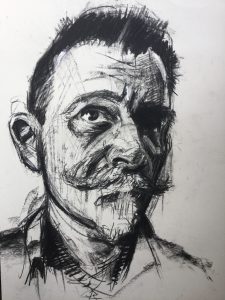 I write prose and poetry and do three dimensional work, often on a commission basis.  This has included props and banners for the Gloucester History Festival, pub signs, building musical instruments and things like weather vanes.
Check out more from David Seed on his website http://www.davidseedfineart.co.uk