ARTIST PROFILE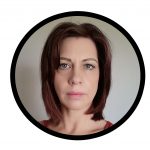 Susan Fourie
Q&As
Hi Susan. Thank you so much for all your wonderful submissions to the Artspace Gallery, and for taking the time to talk about you and your work.
Q – What is your background?
A – I am 48 years old, the youngest of six siblings. I am married to an amazing husband, Johan, and have two beautiful children, a daughter, San-Mari, aged 21 and a son, Altus, aged 16.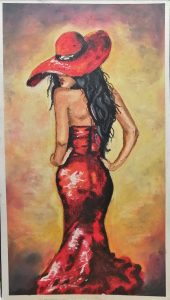 Q – How did you get into art?
A – My love for art started when while I was in high school I watched my older brother doing a portrait for a relative. I also wanted to try it out and got hooked on art!
Q – Where do you live and does living there influence your creative process or provide inspiration in another way?
A – I live in a very small town, Winterton, in South Africa. Winterton is situated in the Central Drakensberg area, which is also a heritage site, and am so privileged to live in one of the most scenic places in South Africa. It inspires me everyday; the majestic Drakensberg mountain range, rolling green hills, crops of the farmers in the fields and the list go on! South Africa as a whole inspires me because I think our country is one of the most beautiful places in the world. Being a small place it is sometimes difficult to be creative because I have to travel far for art supplies.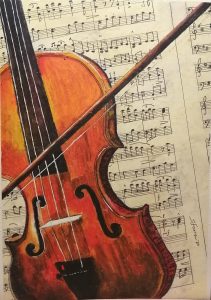 Q – What is your chosen subject and why?
A – I don't have a chosen subject. The subject choose me! I can look for a certain subject to paint and all of a sudden I see something completely different to what I am looking for and then my soul just have to put it on canvas!
Q – What medium and materials do you work with?
A – I work with all media: oil, acrylic, water colour, pastels, colour pencils, charcoal, wall paint and mixed medium. I am like a chameleon, I can't stick to one medium!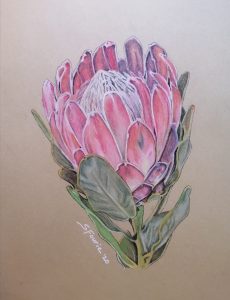 Q – Where do you get your inspiration from?
A – My inspiration comes from my soul, my emotions and love for life!
Q – How would you describe your style? How has your style evolved over time, and what has influenced its development?
A – I don't have a specific style. I am a self taught artist. I find my own styles. Sometimes I make use painting techniques on drawing techniques and vice versa. Just as long as I get the result I was planning on. I found myself enjoying finer detailed work more than loose styles.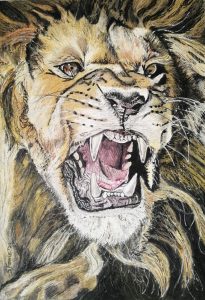 Q – What is your creative process?
A – I am quite a free spirit and just do it! Hahaha
Q – What's your studio like?
A – I am working in my house where I can find a space. Usually my kitchen table as it has good lighting. But I am so excited – I am busy renovating a small outside building into my art studio and can't wait for it to be finished.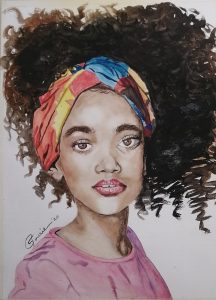 Q – Are there fellow artists who inspire you, who either work with the same media as you, or in other fields?
A – Since Winterton is a tourist destination there are quite a few artists around here! They are more into the paints like oil, acrylic and water colours.
Q – How do you know when a piece is finished and when it's the right time to stop?

A – I usually don't know when to stop. But when I find myself making mistakes at the end of my work I tell myself: Susan, you are messing up now – it's time to put down your brush. Sometimes I will leave it on my easel and as the days go by I will see something that needs "something" and once that is done I am happy to put everything down and start cleaning up.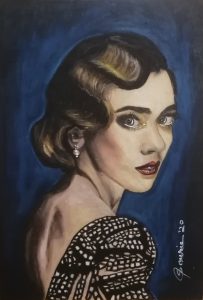 Q – Is there an artwork you are most proud of? Why?

A – I am actually proud of most of my work but I there are 2 pieces that I can say are my favourites. The beach acrylic painting with the title "The Ocean Stirs The Heart" and my pencil drawing titled "The Big Five".
Q – Are there any other art forms that you would like to try?

A – Yes, absolutely! Wood art, sculpting, pottery, liquid pouring and glass painting.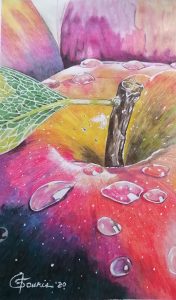 Q – What are you working on at the moment?

A – I have just finished my realistic close up still life, "Eve's Apple" in Polychrome colour pencils.