ARTIST PROFILE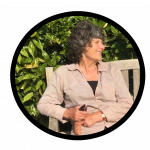 Sue Bamford
Q&As
Hi Sue. Thank you so much for all your wonderful submissions to the Artspace Gallery, and for taking the time to talk about you and your work.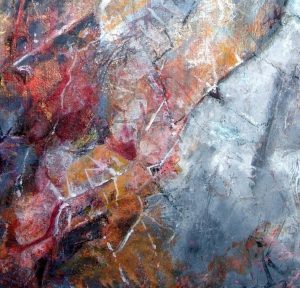 Q – What is your background?
A – My background is as a golf professional.  I left college to play on the Ladies European Tour, which I did for a few years.  When I finished playing competitively I moved into coaching, which I  have been doing for more than 30 years.  In recent years I have also worked as a tournament referee.
Q – How did you get into art?
A – I loved drawing and painting as a child, so it's really a lifelong passion.
Q – Where do you live and does living there influence your creative process or provide inspiration in another way?
A – I have lived in the Forest of Dean since 2016.  While walking in the forest I look at colours, textures, and shapes in the landscapes.  These are starting points for my work.  I grew up in South-west England, and also spent many years living in Ireland.  All these places, the impact of the changing seasons on landscapes, and the natural world, have influenced and inspired my work.
Q – What is your chosen subject and why?
A – I have two main subject areas.  One is landscapes, which are abstracted to a greater or lesser degree.  The other is birds, which I have loved watching since I was a child.  These tend to be more figurative pieces of work.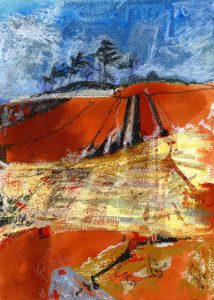 Q – What medium and materials do you work with?
A – I use a variety of media, including acrylic, gouache, oil pastel, collage, ink, watercolour and charcoal.  When I lived in Dublin I also did quite a lot of print making, particularly lino cut prints. I love to experiment with different combinations of media, and enjoy making unexpected and accidental discoveries.
Q – Where do you get your inspiration from?
A – I am fascinated by the natural world.  Much of my inspiration comes from exploring and looking at nature, and by gathering the colours, patterns and textures I find in landscapes.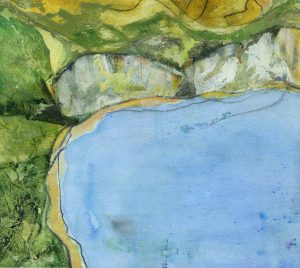 Q – How would you describe your style? How has your style evolved over time, and what has influenced its development?
A – My style is quite varied, it's difficult to pin down.  My landscapes can be very abstracted, while my bird paintings and prints are more figurative.  In 2012 I completed a part time Certificate in Visual Arts Studies at the National College of Art and Design in Dublin, which I did over four years.  This had a huge influence on my work.  There I learned how to develop projects and ideas, and was encouraged to experiment with different media and processes.  The tutors were fantastic.
Q – What is your creative process?
A – Usually I start by walking, looking, and taking photographs. I have been lucky enough to live in some beautiful places.  I'll be looking for colour, patterns, textures and interesting compositions in what I see.  I keep notebooks, and experiment with ideas and different media.  I'm very open to happy accidents, and one thing will lead to another.  Sometimes a piece of work, or a series of pieces, will emerge.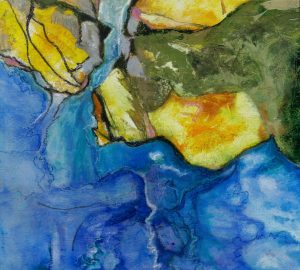 Q – What's your studio like?
A – I don't have a studio!  I have a large kitchen table, and a spare bedroom, which is crammed full of art materials and another large table.
Q – Are there fellow artists who inspire you, who either work with the same media as you, or in other fields?
A – There are many artists who inspire me.  I love to spend time looking at their work, and visit exhibitions when I can.  Particular favourites include Barbara Rae, Tony O'Malley, Patrick Heron, Matisse and Paul Klee, but there are many others.
Q – How do you know when a piece is finished and when it's the right time to stop?
A – That's a very difficult question! I think if you leave a piece alone for a few hours or days it can be easier to judge.  There can be a lot of frustrations along the way.  Sometimes a piece will come together suddenly, having almost ended up in the bin.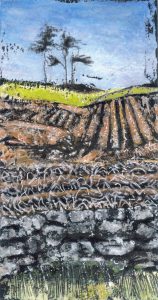 Q – Is there an artwork you are most proud of? Why?
A – I'm happy that I completed 'Forest in Lockdown', which went through many incarnations. For a while I couldn't make it work, and it was difficult to resolve.  I'm happy with the outcome.  It's meaningful for me, as it reflects my personal experience of lockdown in the forest.
Q – Are there any other art forms that you would like to try?
A – I'd like to continue to experiment with different media, and learn more about printmaking.
Q – What are you working on at the moment?
A – I'm looking at developing repeating patterns, which I have done experimentally in the past. It's an emerging interest.  I'm hoping to learn about digital design, which I know almost nothing about.
See more of Sue Bamford's artwork on her website www.suebamfordart.com