The Themes & Workshops of Thinking Differently About Diversity
Quicklinks
– Roots

About the theme
What do we know about roots?
They are the very first thing that grows from a seed
They anchor the tree in the soil and keep it 'grounded'
They are always growing and seeking out nutrients and water
The reflect the shape of the canopy, but underground where we can't see them
The tree can live without its branches/leaves, but it can't live without its roots
They don't look at pretty as the rest of the tree but they are just as important
A tree might look dead, but if its roots are still living it can still survive/regenerate
They often connect the tree to the rest of the forest via fungi, bacteria, other plants
They release a lot of chemicals that help the tree communicate with its environment
About the activity
This activity was inspired by a unique piece of outdoor art that forms part of the Forest of Dean Sculpture Trail in Beechenhurst, Gloucestershire. Created by artist and sculptor Annie Cattrell, 'Echo' is a large fibreglass sculpture, which is situated in a small stone quarry. Its intricate contours replicate the exposed rocks of the nearby quarry wall, intertwined with ancient tree roots and other signs of life spanning many hundreds of generations.
During this activity, participants used real roots from local trees, including oak and Norway spruce, to create detailed plaster sculptures that could be displayed as small works of art.
The delicate end result was achieved through a process that began with a surprising degree of physical effort, with participants rolling out heavy slabs of clay into which to press their selected arrangement of roots. This was followed by mixing liquid plaster of Paris – a messy job that required the participants to work together as a group before each pouring a thin layer of plaster into their own clay mould. Once this had dried, they could peel away the clay to reveal a unique cast of their arrangement of roots in exquisite, three-dimensional detail.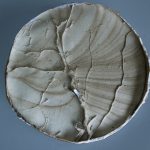 About the workshop groups
MindSCAPE is a Forest of Dean-based community support group that helps people with dementia and their carers to connect with nature through art.
Watch the mindSCAPE digital slideshow here
The Grange is a residential care home for adults with learning disabilities, autism, and mental health challenges. It is part of Camphill Village Trust, which operates across the UK
Watch The Grange digital slideshow here
---
– Trunk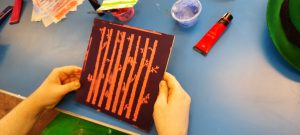 About the theme
What do we know about the trunk of a tree?
It provides strength and resilience against damage
It is a powerful structure – it can hold up the whole canopy
It might look old/gnarled/lifeless but it's a living, changing part of the tree
The trunk moves crucial water/nutrients from the roots up to the canopy
Even after you chop the tree down, the trunk lives on as it has many uses
Tree trunks can be a home (and a path) for many birds, animals and insects
When you look at it you just see the bark, but inside it there are lots of circles that provide evidence of all the other years/seasons that the tree has lived through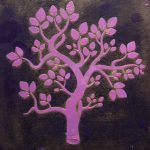 About the activity
During this activity, participants used modelling paste and acrylic to create bright, textured paintings of trees, finished with metallic gold paint to emphasise the texture of the trunk.
The session began with a short discussion about the diversity of trees, including how the trunks of different types of trees all have their own unique shapes and textures.
Small, pre-painted wooden boards in a variety of colours were distributed to participants, along with a selection of stencils of trees of various different shapes and sizes. Participants were supported in choosing a colour of acrylic paint, before mixing it with a small amount of modelling paste and dragging it over their tree stencil using a small piece of cardboard.
Participants marked the trunk sections to create the impression of bark. A final layer of gold paint was added, which remained in the textured areas when the excess was wiped away.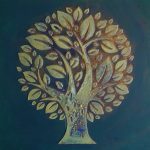 About the workshop groups
The Orchard Trust provides residential care, support, and day services across the Forest of Dean, for adults with a range of complex learning and physical disabilities.
Watch The Orchard Trust digital slideshow here
Headway Gloucestershire provides essential services across Gloucestershire for people with acquired brain injuries, their partners, families, friends, and carers.
Watch the Headway digital slideshow here
---

– Branches
About the theme
What do we know about the branches of a tree?
They allow the tree to expand within its environment
They are the part of the tree that grows/gets bigger
They can grow in different directions depending on what they need
They seek out the sunlight and find the best conditions for growth
They move/sway in the wind – they are flexible
They provide a structure for leaves, fruit, and flowers to grow upon
They provide a resting place for birds/animals (and sometimes children!)
They usually grow upwards and will keep on growing if they can
They sometimes fall off or get damaged, but the tree still lives on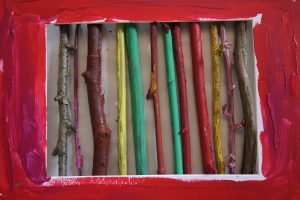 About the activity
In this activity, workshop participants painted and arranged small tree branches to create abstract, framed compositions featuring brightly coloured curved and horizontal lines.
Following a practical demonstration, each participant was given a plain cardboard picture frame to paint over, using bright colours and loose, spontaneous brush strokes. Participants each then selected some small branches that had been cut to fit behind their picture frame.
Using a range of colours, carefully selected to complement their choice of frame, participants decorated and arranged each of their branches. Once these had all been glued into place by support staff, the pictures were finished and ready to be displayed on a wall or shelf.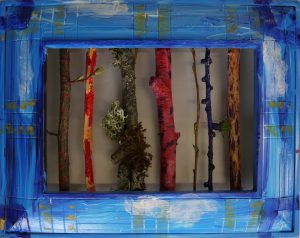 About the workshop groups
Apple Orchard provides residential care and support for adults with learning disabilities, in and around Newnham on Severn in the Forest of Dean.
Watch the Apple Orchard digital slideshow here
The Independence Trust provides statutory support and advice for autistic adults in Gloucestershire through the Community Autism Support & Advice Service (CASA).
Watch the Independence Trust digital slideshow here
---

– Leaves
About the theme
What do we know about the leaves of a tree?
They generate food/energy for the tree
They provide shelter for birds and animals
Their shape/colour can help us to identify different trees
They often come and go every year, and are always changing
They are the most vibrant part of a tree, but also the most vulnerable part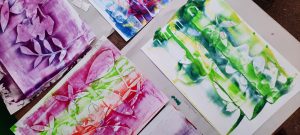 About the activity
This activity involved the creation of mixed media collage pieces, using a screen-printing technique to drag paint over drawn and cut-out leaf shapes, which were partially covered in a selection of words and phrases reflecting personal experiences of trees and forests.
At the start of the activity, participants were deliberately not shown an example of the finished work, to keep the result a surprise and to encourage them to trust the process.
Each participant was given a large sheet of white paper and encouraged to use coloured pencils to free-write words associated with their thoughts and memories of trees and forests. On the back of the same piece of paper, participants drew and cut out the shapes of a variety of leaves collected from around the arboretum, including oak, ivy and sweet chestnut.
After attaching their decorated leaf shapes to a separate piece of paper, participants mixed brightly coloured acrylic paints with PVA glue to create vivid, translucent colours. These were liberally dropped along the edge of the paper, before being dragged using a screen-printing tool across the whole page. The coloured paint mixture gathered between and around the collaged leaf shapes, revealing glimpses of handwritten words against a vibrant background.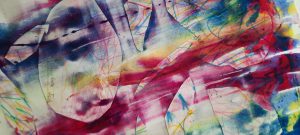 About the workshop groups
These public workshops were delivered on-site at Westonbirt, the National Arboretum and were open to people of all ages with experience of neurodivergence. Participants included families with experience of autism and ADHD, as well as some of the regular adult learners from Artspace Cinderford.
Watch the Westonbirt, the National Arboretum digital slideshow here