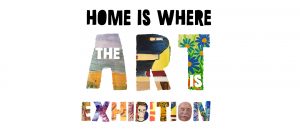 Autumn
Loss and Change
As Summer fades, we enter a period of change and loss, with the arrival of Autumn.
---
Watch the 'Autumn' Exhibition Video here
---
*Click on the images to enlarge them.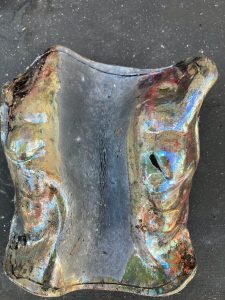 Ally Goff – Constrained (Sculpture)
I was in self isolation for the first 8 months of lockdown 2020. During this time I used creativity and making as a means of expression and understanding what we were all experiencing. This hand-manipulated tile has been part-glazed and Raku fired. The unpredictable results illustrate the huge stresses and strains the clay has undergone during this process, contorting its shape and changing its colour. The handmade stretch marks tear at the material form, as if lost, confined and unable to escape.
---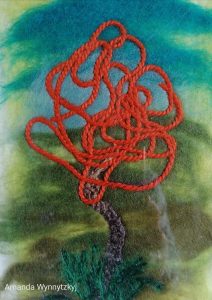 Amanda Wynnytzkyj – Untitled (Textiles)
My picture of a tree with its beautiful autumnal colours was made with felt and wool. The loss of leaves which will inevitably happen after this display during this time of year reminds me how much life alters during our own journey over time. With loss comes change. How we cope differs from one to another but knowing we are not alone and there are people out there who will help can give us comfort. Whilst the tree waits for its new buds and leaves to appear, it is quiet, contemplating its new life ahead. And this is its strength.
---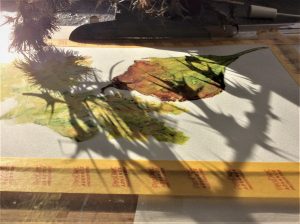 Ann Fairman – Shadows of Autumn (Watercolour)
I was practicing watercolours using Autumn leaves from the garden and I placed the painting on the windowsill to take a photo and the shadows changed the image completely. Sometimes change is an improvement.
---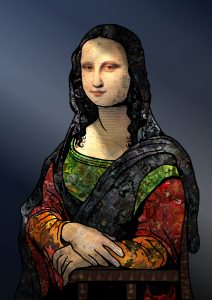 Bob Garland (aka BLZ Bob) – Stay Calm and Keep Smiling (Digital Collage)
Turned 65 last January, shortly followed by redundancy. Brilliant! A pay off and I get to retire a year early. Thought I'd have a go at being an artist and the lock down has given me chance to build a portfolio. My digital collages are made from vintage comic covers, newspaper headlines and advertising, symbolism and a bit of magic.
---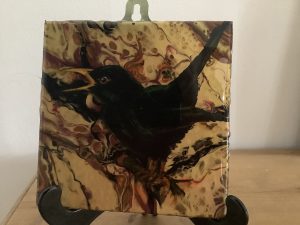 Carol Knight – Blackbird Sings (Acrylic & Mixed-Media)
An old friend died. A gentleman in the truest sense of the world, we shall not see his like again. At the heart of the village, he had run the village stores just as his father had before him, with gentle good humour and kindness. The church, the graveyard and the village green were packed with mourners, each wishing to bid farewell to a true countryman – a man content and at one with nature. Inside the church, the morning song of a blackbird was played – the notes sang with promise of life and all its joys. For my friend, the blackbird was a symbol of hope and constancy: 'As I begin my day, sorting the papers, its song is with me. When I close shop, it's song is the last thing I hear before I lock up.'
---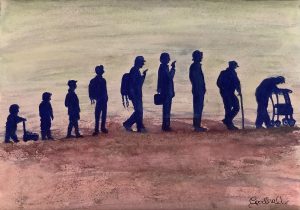 Carole Goodhall – Life Cycle (Watercolour)
Life itself describes change. As we grow, we are constantly learning and changing. Everything around us, is changing too. And we will experience loss. My artwork shows life stages: from a toddler using a walker; through childhood to adulthood; then to old age and back to using a walker. Unfortunately, old age brings changes that we don't want, and the realisation of loss.
---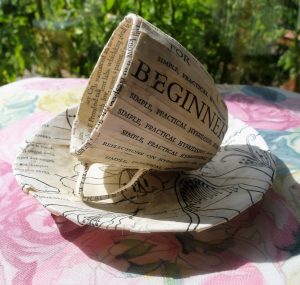 Carolyn Gemson – Do You Take Milk? (Papier Mache)
Decorated with all the garden activities that I was unable to share over a cuppa with good friends.
---
Cathy Banks – Autumn Colours (Textiles)
I experimented with with bondaweb and stitching for this piece. The inspiration comes from one of my favourite walks through beech woods in the Autumn.
---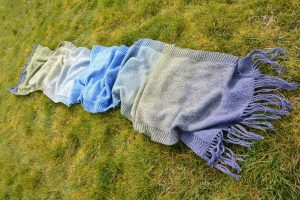 Cherry Lyne – Transition (Textiles)
Wool and cotton shawl handknit from over half a million stitches from a single ball of wool. It is 50cm wide and 320cm long and it is dip-dyed for a continuous transition of colour, which is what autumn is for me.
---
Chris Newton – Outcomes (Poetry)
Early in 2020 my house was inundated by a flash flood. All of my downstairs contents were condemned as well as many personal belongings. Desperately upsetting as it was, there was really only one way to approach the disaster – by treating it as an opportunity to regenerate. But, shortly after the flood the world was presented with COVID-19 and the associated impact on all of our lives and the tragedies experienced by so many people. So, in my poem 'Outcomes' I endeavour to reflect my own personal positive approach to whatever life cares to throw at me.
The glass is half empty, the glass is half full
Is there a difference or is it just bull?
It's all a disaster or it's a new start
Everything's wrong or only just part
A massive new problem or a lesson to be learnt
How big a disaster if the toast just got burnt?
I sit here in lockdown and count up the score
In grand isolation I can't leave the door
Dennis (the menace) flooded my home
Just before Covid-19 decided to come
My furniture's gone, my books are all trash
And my treasures are missing along with some cash
But now here we are and the news has been bad
So it's OK to worry, it's OK to be sad
But wait just a minute let's take a good look
I'm out in the sunshine reading a book
My shopping just came in a van to my door
And I've worked out a brand new plan for my floor
I'm finding new hobbies, I'm learning to knit
I'm building a battleship out of a kit
My house may be empty, but I am OK
My mind holds my treasures, the memories replay
And I don't need the objects to give me recall
I can always remember without them at all
It's a new start for me and I'm glad that it's so
It's too easy to sit and forget to how to grow
The news is still tragic but it's on the mend
And everyone's now being everyone's friend
Perhaps when it's over we'll see that we've found
That things do get better through hardship all round
It does seem ironic that the worse that it gets
We all seem to stand up and bring out our best
So now to the future, what more does it hold?
Our lives are all changing so we must be bold
Take hold of the chances that we have now got
To make the world better, like it or not
So now we are finally back from the brink
Half full or half empty, well, what do you think?
---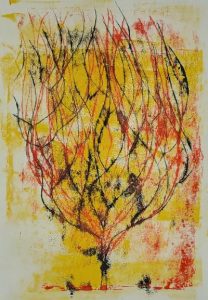 Clancy Ward – Fire Tree (Mono Print)
Part of a set of mono prints inspired by the 'Home is Where the Art is' printmaking course with [Artspace artist] Melanie Clarke, depicting the impressions, dreams and memories I have of my local area during the past year. I feel so lucky to live in the Forest of Dean and to be surrounded by such beauty and I immerse myself in the forest as much as possible.
---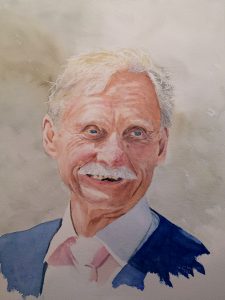 Colin Wynn – Michael (Watercolour)
Michael was my father-in-law who sadly passed away in September 2018 after a short illness. Within a short period of time from telling my wife that he had untreatable cancer, he was gone. I started watercolour painting during lockdown 2020 and decided to paint this portrait for my wife at the beginning of 2021 as I thought I could do him justice by then. It hangs in pride of place where she can see it every day, so he's never really gone.
---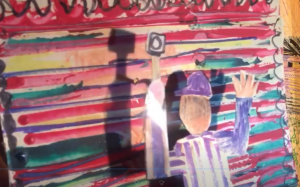 Darren Hoskins – Corrugated Cranky (AV)
I've been using "crankies" recently (I've only found them by accident on Facebook a couple of months ago) as they seem to mix the excitingly new (recording them for social media) and the reassuringly old school (I think I've started doing them like some middle-aged men take up model railways). Lockdown hasn't really affected me as much as other people, as I would have been messing about at home on the farm in between farming work anyway. There's a Facebook page which is dedicated to old buildings made up of rusting corrugated tins and I can see the fascination and this project was inspired by that, as they are so evocative of the people who used them, now long gone presumably. (As the crankies seem to remind me of Ivor The Engine, Nogin The Nog, The Herb Garden etc, from my childhood, long gone, but possibly coming back again…). Watch Darren's cranky performance here.
---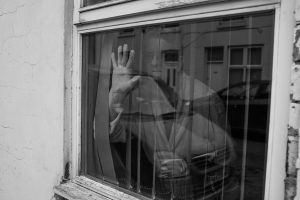 David Cross – Visiting (Photography)
This image was made on a trip to drop off food and general supplies to my aging Mother, trapped in her house in town alone, enduring the COVID lockdown and isolation. We all found I think what is vital in our lives during the pandemic and this image represents all the friends and family that we were unable to visit and check up on properly. Not everyone has come out the other side intact, we should consider them in our daily activity post COVID-19.
---
Deborah Gregory – For My Sister, Maz (Poetry)
This poem is about loss.
For my sister, Maz.
1944 – 2021.
Moths have eaten into my childhood
making holes, laying eggs
in the fabric we shared.
And the beetle that holds up the moon
is exhausted.
A spider is called for
a labyrinth weaver
a memory aid.
In her web I will hang
our pinafore dresses,
our visits to Grandma,
Mum's hopeless cooking,
our LPs, transistors,
our corduroy collars
and the beach
with the ice creams
the bunting, the white sand
and the sea
forever
calling us back.
---
Diana Gash – I Liked My Old Life Better (Creative Writing)
In 2020 a deadly virus swept the world and a Pandemic was declared. In March Britain locked down. The front door was shut, me on one side, the rest on the other and life became sadly different.
And the pretence began. I heard this voice.  "Yes fine, so lucky to live in the Forest, to have my garden, sufficiency, mindfulness, creativity, books, friends, the phone, Netflix". Replace the receiver and cry for my family and yearn to see the smile of my Mum, long passed.
The inbox filled up with offers of courses. I could print and paint and sew and write. A virtual hour was all it took. One morning I opened my sketchbook and the healing began.
---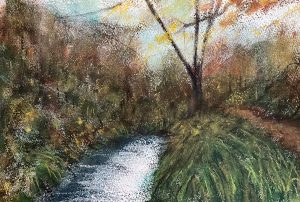 Ellie Thomas – Eden: Nature Reserve in Autumn (Pastel Paint)
The local Nature Reserve is a space of quiet tranquility on the edge of town. Stopping here one afternoon last Autumn I was captivated by the 'wild beauty' of this place.
---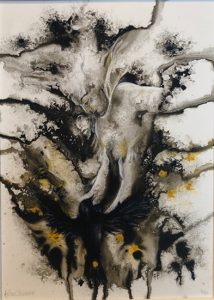 Fiona Channon – Ascension (Acrylic Ink & Pastel)
This is about transformation, enlightenment and the support that is all around if you are open to it. Moving to a higher vibration that reflects love, compassion and harmony with all living things.
---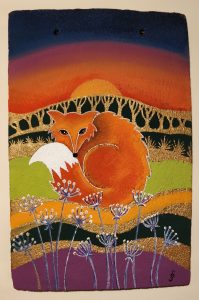 Fran Palmer – Afterglow (Acrylic on Reclaimed Terracotta Roof Tile)
I created this painting as a dedication to those we have loved and lost through the course of the lockdown. I believe their energy or 'afterglow' remains with us, appearing when we least expect it to. The fox represents strength during times of change, something we have all needed.
---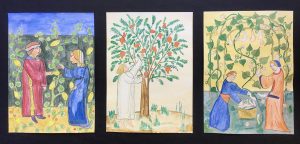 Francis Marriott – The Medieval Harvest (Watercolour)
A triptych of bringing in the medieval harvest in early autumn in the Mediterranean, before the colder and darker months take hold and the year changes. My version of the scene inspired by some old book illustrations that I found.
---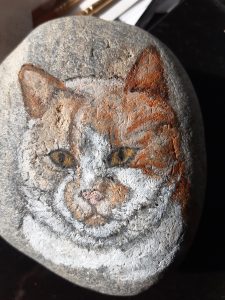 Gail Harrison – Polly (Paint on Stone)
I painted this stone with a picture of a friends cat. My friend has been diagnosed with lung cancer and her cat has recently died. I thought it would be a nice but different gift for her birthday to have a reminder of Polly, the cat. This is the reason I would like the theme to be Autumn – for the loss of a beloved pet and her change in health.
---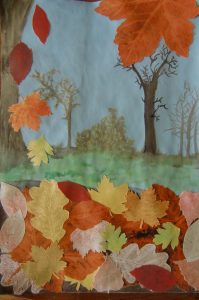 Jacqui Rokodravu – Walk on Crispy Leaves Under Blue Sky (Mixed-Media)
---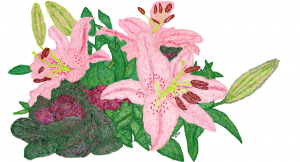 Jan Tyler – Lily (Digital Drawing)
Picture created on computer using Microsoft paint using a photograph of some lilies I was given. Although lilies are used to convey loss they also represent purity, innocence and peace.
---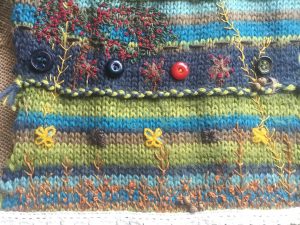 Jennie Davis – Just Look (Textiles)
In autumn there is colour all around. I loved the colours of an old cardigan that my grandaughter outgrew so pinched a sleeve. I backed it with cotton and added stitches in colours that I saw outside. The crimson fruit on the crabapple tree, the golden bronze of the bracken dying back in the forest, sun flowers and teasels turned to seed, the bright colours of the birds coming to feed from them. There is colour everywhere if you "Just look".
---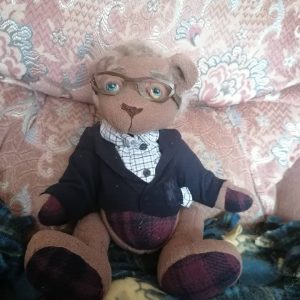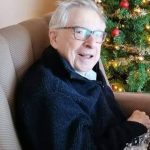 Julie Lisseman – Daddy Bear (Textiles & Mixed-Media)
My father unfortunately had a fall in June and died in hospital from complications. l made the bear from his lap blanket and clothing; the hair is needle-felted and the eyes and glasses made from fimo – the only thing l didn't make was the plastic joints. He is my memory bear and sits in the chair my father used to sit on when he came for a visit.
---
Kate Fedden – Gather ye Rosebuds (Poetry)
As this poem was written in October, and I am in my late eighties, it feels as if it represents the autumn of my life as well as the autumn of my garden. The title is quoted from Robert Herrick's poem, 'To the Virgins, to Make Much of Time', in which we are encouraged to do what we can while we still can.
By Icy hail battered
Tattered leaves torn down
The clods of earth are sodden
Trodden by ghosts alone.
My plans are done and dusted,
My garden tools are rusted:
The garden's overgrown.
I sowed the seed and planted,
Haunted the garden fair
In the enchanted air.
Yet nothing is forever
Flowers fade and fall
And nature will prevail.
Now my powers are failing
Ailing and held in thrall.
Hail gives way to rainbows
And the dark clouds move on.
The days of wine and roses –
Take them as they come,
Days of joy and laughter,
Love in the afternoon.
What matters the hereafter?
All will be gone so soon.
---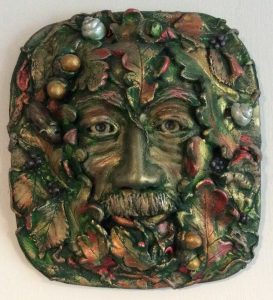 Lesley Luker – The Oak Green Man (Air Dry Clay)
During the first lockdown I really felt at one with the forest – it healed me living and walking in it every day as I missed my family so much. I don't think I have ever appreciated living here as much as I do now – I feel so lucky it inspired me to make a Green Man. He's made from air dried clay.
---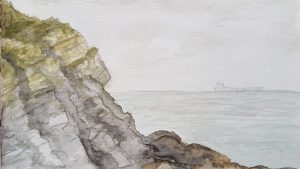 Lin Corcoran – Rocks at Cadgwith Cove (Watercolour)
A grey autumnal seascape focusing on the rocks at Cadgwith Cove in Cornwall.
---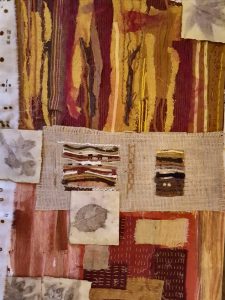 Linda Harvey – Fading Days (Textiles)
As we rotate the sun and the days get colder, a last celebration of colour… goodnight for now.
---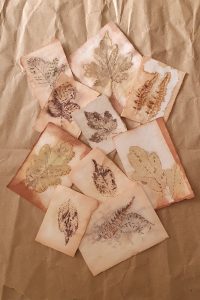 Lorna Stubbs – Autumn (Mixed-Media)
Fallen leaves on the forest floor – summer's spent is Autumn's glory.
---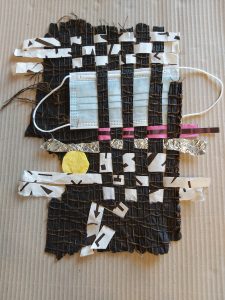 Mildred Bluett – Pandemic 2020 (Paper)
This was done after a paper weaving Zoom session and the black background represents the darkness of feeling as we move through the pandemic. The black and white represents the confusion that we have felt. Pink and black makes us realise all nations are affected, masks become essential and finally changes come with silver lining and sunshine.
---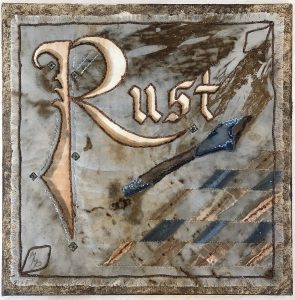 Morag Potter – Rust (Textiles)
Rust is a sign of decay and a return to the soil, something many living things do during Autumn. Created in 2020 for an exhibition at Llanthony Secunda Priory, Gloucester. The Priory held workshops in early 2020 (COVID curtailed) during which I saw and handled some site archaeological artefacts. I sketched a few uncleaned rusty shards, whose excess soil I used to made paint to cover the canvas and shard image that I stitched below the text which uses the Priory manuscript font taught in a calligraphy workshop. This piece helped me stitch and create my way through the darkest days of Lockdown 1.
---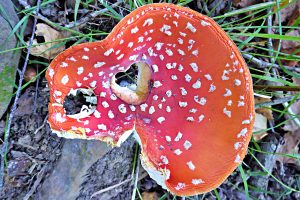 Nettie Lee – Hole Hearted (Photography)
Seeing the beauty in decay. There's a heart shaped hole in this beautiful fly agaric mushroom as it starts to fade into decay in the melancholy of autumn days.
---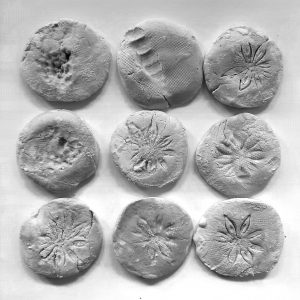 Pamela Jones – Casts (Mixed-Media)
---
Penelope Weedon Kerr – Boots (Poetry)
This piece describes the sense of loss felt when one finds an article belonging to a loved one who is no longer there – in this case, a pair of well-used and loved walking boots. The artwork which inspired the poem, by the artist Jolie Marchant, is included alongside the words. It was used as a prompt in a workshop run by Dean Writer's Circle, who have continued to meet by Zoom during the COVID pandemic lockdown.
It was going so well
till I found your boots.
I'm amazed you left them
when you 'walked'.
I recall the hills, the views, the picnics
when our souls seemed to meld into one,
when the warmth of the sun touched your smile.
It's been a while since then.
I look at them again,
pick them up, handle the creases left by your feet.
How could something so ineffably sweet
turn so sour?
Was there a month, week, day, hour
when our friendship capsized,
when I changed in your eyes?
Did you leave them as a message
that you'd return?
Should I keep them, burn them,
frame them – or blame them
for making me weep?
No, I'll just close the cupboard
and leave them to sleep.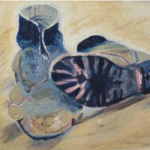 A poem inspired by this lovely painting by artist and writer Jolie Marchant.
It was used as a prompt in a workshop run by Dean Writer's Circle, who have
continued to meet by Zoom during the Covid pandemic lockdown.
---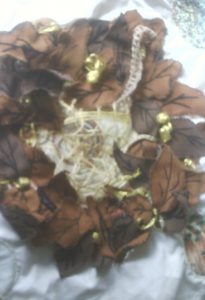 Penny Ballinger – A Dark Wreath (Textiles)
This started off as a piece for the last 'Art in a day' that Artspace ran! Throughout lockdown I worked on it, embroidering and adding applique, to make it more permanent, making the leaves appear less dead, adding to it to try and revive it, and change it. The loss is the loss of opportunity to work in groups, sharing each others' company and creativity. Even the opportunity to be out and about exploring the Forest for inspiration, and the real fear we had – especially in the first phase of the pandemic – of contributing to and sharing contagion.
---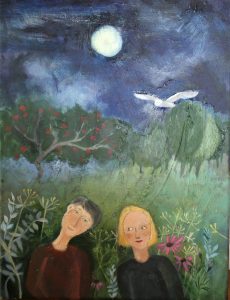 Penny de Ruyter – Listening for the Owl (Oil)
This painting was inspired by listening out for the sound of the owls in the late evening, during a visit to my sister. She lives in Cinderford and has a very productive apple tree, as well as lots of flowers in her garden, and we always go for walks in the woods whenever I visit.
---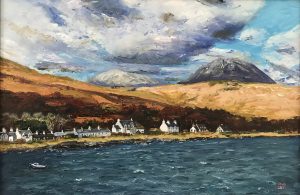 Pip Deave – Jura (Oil)
Lockdown gave me some extra time to paint this as a gift for my brother who turned 60 two years ago! It shows Jura and the Paps mountains. He loved this place. He owned the house on the left, and the picture shows his boat too. They were sold a couple of years ago.
---
Popi Chadwick – Autumn (Textiles)
This is a glycerin preserved leaf attached to hessian with a running stitch and French knots. Measures 20cm square.
---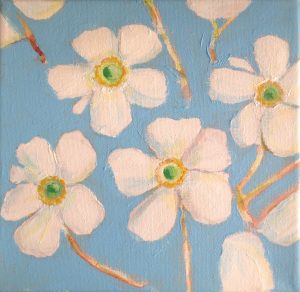 Roger Ryan – Autumn (Mixed-Media)
---
Sally Hayward – Autumn Poem (Poetry)
Now we are into the second week of October, autumn has begun.
Frosty night's and sun shines so low in the sky.
Clocks go back an hour within the next fortnight; an extra hour in bed.
Animals from hedgehogs and tortoises go into hibernation.
Put more logs on the fire, keep warm and snuggle up.
Remembering watching the clowns juggling in the Circus.
Looking forward to the springtime.
---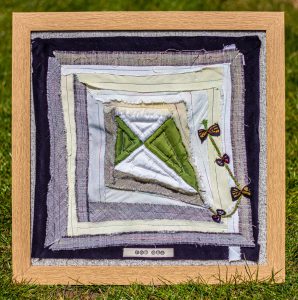 Sarah Hannis – For Dad (Textiles)
This piece is in memory of my Dad who lived his life in Fairford. We lost him in Autumn 2019 and this piece brings back memories of childhood summer days out on Minchinhampton Common with a Peter Powell kite. Dad and Gloucestershire seem to be woven into the whole piece. After signing up to a textile course with Gloucestershire artist, Jayne Emerson, I was inspired to use the linings for log cabin style patchwork. The kite shape was accidental and the memories flowed into the creative process. Dad was always recycling things – I think he'd approve.
---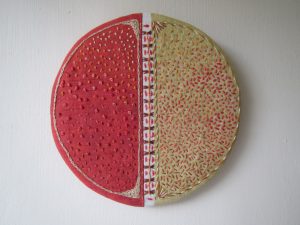 Sharon Shirley – Mellow Fruitfulness (Textiles)
Stitched using Autumn colours, with John Keats' poem, 'Ode to Autumn', running through my head.
---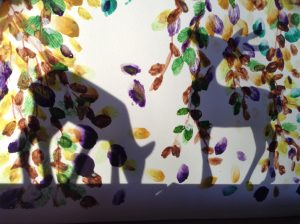 Sheila Croney – Timeless (Mixed-Media)
This was inspired by a beam of sunlight being reflected into my lounge from the bedroom window of the house opposite. I happened to be looking at a fingerprinted leaf painting I'd recently done and I had two brass deer on the shelf, so experimented with putting the deer behind the leaf painting, photographed it, and loved the autumnal-looking outcome!
---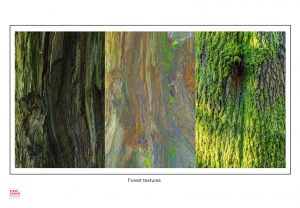 Steve Gaskin – Forest Textures (Photography)
Nature is wonderful and appears in all forms. The way that moss and lichen grows produces some wonderful textures particularly as Autumn turns the colours; these three images are from a small portfolio I created from around the Forest.
---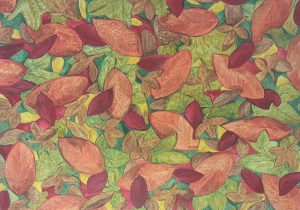 Sue Evans – The Last Hurrah (Acrylic)
Autumn finds nature winding down. There is a suggestion of sadness and decline. A reminder that winter will soon arrive. But with its last breath, this season gives us a final, loud and glorious show of colour, an offering to sustain us. A reminder that all is not lost.
---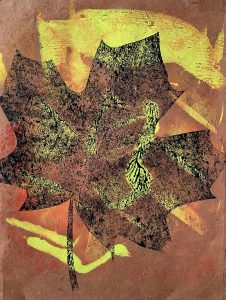 Sue Goodlass – Autumn Glory (Print)
---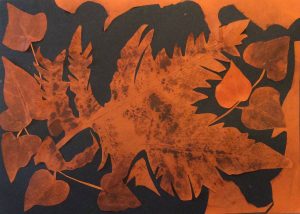 Sue Haverly – Autumn Fern & Leaf Print Collage (Collage)
Each year during autumn the forest erupts into glorious flaming orange red and gold and briefly lifts our spirits before the onset of the dark winter days ahead. Last year we needed that more than ever. It was a hard job. When those flaming colours return for this year's display, much will have been lost and changed, but our sprits will be lifted again.
---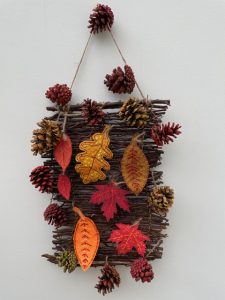 Sue Manser – Autumn Fall (Mixed-Media)
This mixed media wall hanging showcases the falling leaves, fir cones and fiery colours of Autumn (I had a lot of fun making it).
---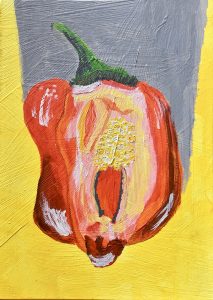 Terry Emmett – Autumn Fruits (Mixed-Media)
---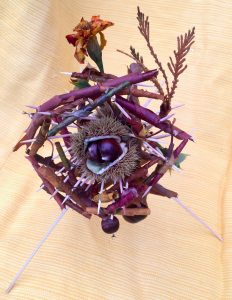 Tracey Dixon – Spikey (Mixed-Media)
Every year I find myself gathering freshly fallen Autumn Leaves. This year their colours were particularly vivid so I felt impulsed to create something from them. I just let my fingers start and found them rolling leaves into little cigars which i kept from unfurling with cocktail sticks, with thoughts of party food and wondered when we might all party together again. It made me think about the similarities between the Corona Virus' microscopic form and a chestnut shell, the virus Spike Proteins, and the 'spikes' which described the infections peak . Quite a painful thing for hands to make; a certain DON'T TOUCH element.
---
Val Ormrod – Fruit Fall (Poetry)
They spring forth
as seeds in the brain,
become buds, burgeon and blossom
into full-blown ideas,
swell to fruit.
I scoop out the summer-sweet flesh,
and the juices spurt
as from an over-ripe peach.
I race to capture them
while the fruit is fresh and new and lush.
In the fall,
they tumble faster.
I grieve for those that escape my grasp
to lie at my feet
where they wither and rot.
Soon it will be winter,
the years all spirited away.
No more fruits to ripen –
the tree of imagination
stripped bare.
---
Viv Winter – Autumn (Poetry)
I dread the Autumn.
Others talk about 'mellow fruitfulness'
but I am inundated with runner beans and courgettes
which my neighbours now refuse.
The loss of light in the evenings is horrible.
We all look forward to the lengthening days and more light;
the days are too short and jobs remain undone when the daylight wanes.
The penetrating cold insists that the heating is put on.
I can't wait for the mystical day of December 21st – the Solstice.
We can now wait for lengthening days and more light.
The dreary days of winter cold is tolerable with light.
The bright crispy days of winter beckon me
with the seductive promise of times to welcome.
I revel in the snowy days, frosted twigs
against a backdrop of spiders' webs.
Autumn is spellbinding in the Forest,
the vast palette of colours in the leaves is magnificent;
but for me I mourn the lack of positive feeling.
Nature is shutting down.
Will it ever recover and reveal its beauty?
In Autumn, I never know.
---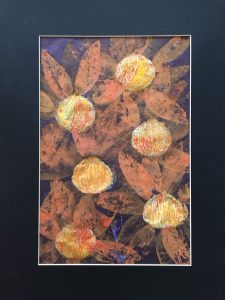 Wendy Tyrrell – Darkling Night (Print)