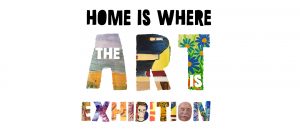 Spring
Growth and Regeneration
As the season of new beginnings, Spring represents growth and regeneration.
---
Watch the 'Spring' Exhibition Video here
---
*Click on the images to enlarge them.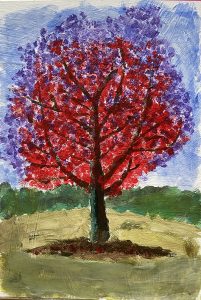 Alex Davies – Queensland Spring (Acrylic)
Many years ago, while travelling in Northern Queensland, I came across two colourful trees (a Jacaranda and a Flame Tree) planted on the road side of a small town and photographed them. While rediscovering my love of painting with Artspace during lockdown I came across the photograph and decided to paint the trees in acrylic on board. This is the result, my 3rd proper painting in 30 years. Thank you Artspace for encouraging me to paint again after so long.
---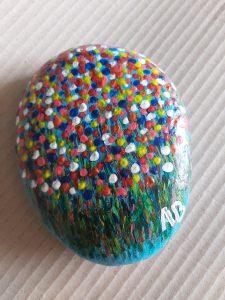 Alison Bluett – Spring Flowers (Mixed-Media)
This paper weight was painted on a large stone and I used oil paint and varnished it. I love painting and the lockdown gave me chance to do what I enjoy.
---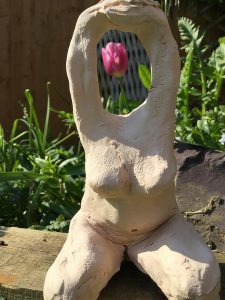 Ally Goff – Confusion (Sculpture)
I was in self isolation for the first 8 months of lockdown 2020. During this time I used creativity and making as a means of expression and understanding what we were all experiencing. In a year of great confusion and uncertainty, nature was one thing the pandemic could not harness. This headless sculpture represents the confusion and displacement around this time. Once photographed amongst the greenery it signals hope, new growth and regeneration.
---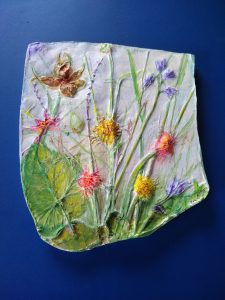 Barbara Millman – Spring Garden (Mixed-Media)
This piece was created during a session from an Artspace Mixed Media course. I moved earlier in the year from a house I loved and had been in 15 years. I was not sure I had made the right move and felt very depressed, but these sessions lifted me out of it and I had something to look forward to doing.
---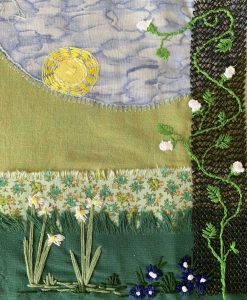 Bev Harvey – Spring is Rising (Textiles)
This is a first attempt at using fabrics and sewing techniques to make a creative piece. It gave me the chance to try embroidery stitches (blanket, French Knot, daisy chain, couching etc.) under the encouraging eye of Lizzie, the Artspace tutor – the workshops have given me confidence to take up this creative craft and do more. The flowers in this piece are all blooming currently in my Spring garden at home, and they, along with the Spring sunshine, are a real boost to wellbeing.
---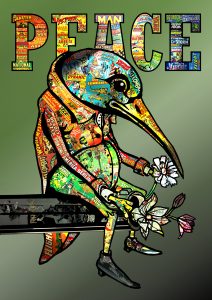 Bob Garland (aka BLZ Bob) – The Bird's Morning Chorus ("Give Peace a Chance") (Digital Collage)
Turned 65 last January, shortly followed by redundancy. Brilliant! A pay off and I get to retire a year early. Thought I'd have a go at being an artist and the lock down has given me chance to build a portfolio. My digital collages are made from vintage comic covers, newspaper headlines and advertising, symbolism and a bit of magic.
---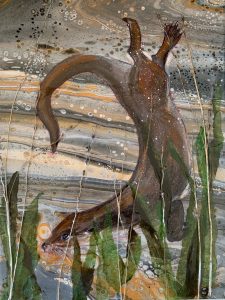 Carol Knight – Otter at Play (Acrylic & Mixed-Media)
It is an April morning and full of promise. I walk the towpath alongside the river, sheltered by a hedgerow froth of blackthorn flowers. An early morning mist swirls over the Wye, which holds itself in a moment of stillness before the tide turns. On the bank opposite there is a flash of movement and, slick against the mud, an otter freezes mid-descent. Intelligent eyes are trained on me and I am still under its gaze. Time slows until, with a swift motion, it rappels down the bank and to the river's edge. It looks up a final time, fearless in the knowledge that it goes where I cannot, before its sleek pelt ripples under the water's surface and nothing more than a trail of silvery bubbles are left in its wake.
---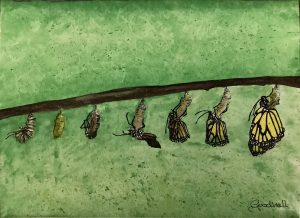 Carole Goodhall – Transformation (Watercolour & Ink)
The life of the butterfly demonstrates growth and regeneration. There are four stages. The adult butterfly lays her eggs on a plant. These eggs turn into caterpillars that feed on the plant, then pupa, and finally climbing out of the pupal skin, as an adult butterfly. The cycle of life starts again.
---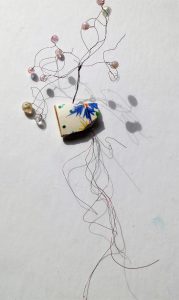 Carolyn Gemson – Onwards and Upwards (Mixed-Media)
New growth and the promise of new life is everywhere. This wire and bead seedling is using a pottery shard found in my garden to give it substance.
---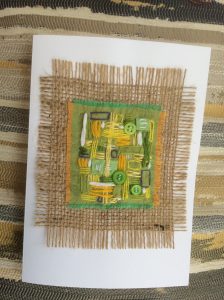 Cathy Banks – Spring Colours (Textiles)
I was inspired by all the bright threads and fabrics included in the pack I received as part of my Artspace textiles course. Although the stitching is not terribly even, I was just pleased to be able to pick up a needle again after breaking my arm. Added a couple of buttons to finish it off.
---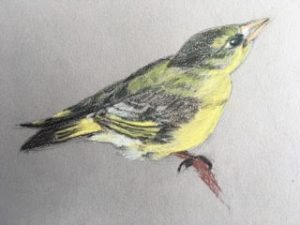 Celia Hinton – Greenfinch (Pastels)
I attended Adult Art Explore at Kite studios in West London for around ten years. We did print-making, drawing and painting and in 2019 I started making a series of bird collages. During 2020 we were locked down in my old family home outside Chepstow and I had very little art equipment with me. Then my younger son gave me a beautiful set of Caran D'Ache pastel pencils for my birthday. At the same time a flock of goldfinches arrived in the garden and I decided to continue the series, drawing goldfinches, a bullfinch and this greenfinch – this time in pastel, a medium I had never used previously.
---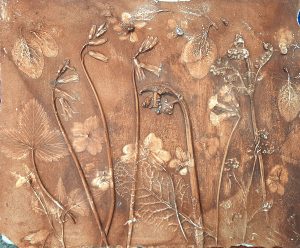 Cherry Lyne – 2021 Fossils (Sculpture)
Plaster casts of plants from my garden set in terracotta have memories of the iron-red soil of the Forest of Dean. Take me back to my time as a palaeontologist when life was exciting and hopeful.
---
Clancy Ward – Chasing the Gorse (Mono Print)
Part of a set of mono prints inspired by the 'Home is Where the Art is' printmaking course with Melanie Clarke, depicting the impressions, dreams and memories I have of my local area during the past year. I feel so lucky to live in the Forest of Dean and to be surrounded by such beauty and I immerse myself in the forest as much as possible.
---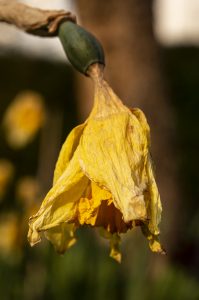 Dave Thorp – Even Clouds Die (Photography)
The never-ending, slow-turning, four-sailed windmill of the seasons brings both life and death, each event containing its own dramatic storyline – something we all have to face sooner or later. I was intrigued that this particular story, enacted within the confines of a garden in Longhope, seems to have had the capacity to transform organic matter into brilliant yellow silk taffeta! A true transformation!
---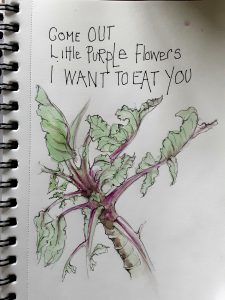 Diana Gash – Impatiently Waiting 
In Spring 2020, as yet unused to solitude, I waited impatiently for everything. For things to grow, things to come to me and things to return to old ways.
---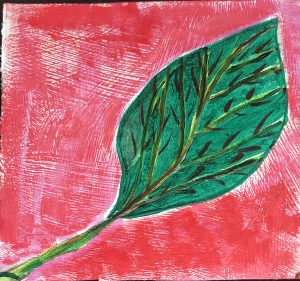 Elaine Bailey – Spring Leaf (Acrylic on Board) 
It has been a wonderful opportunity for me to take part in Warren's art classes on Zoom. It has been an experience l will take forward with me, l have learnt things out the box relating to art, that has been very different and interesting. l would not have been able to take part if it hadn't been for Artspace. I have found this course fun, relaxing, interesting, and unusual. Taking part has also helped me with my ability to mix and has lowered my anxiety. I am so happy to learn that Artspace will continue to do courses on Zoom, even when their doors re-open.
---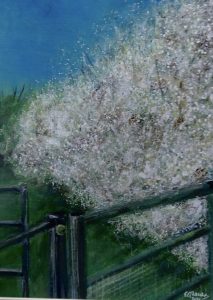 Ellie Thomas – Spring Path (Acrylic)
The blossom this year has been fantastic. This piece celebrates the arrival of spring and the beginning of a new season of freedom and hope as we come out of lockdown.
---
Fiona Shannon – She's Not Lost (Song)
This song is about turning your situation around to create something new and what you want without care of what other people think. Though you may feel lost – it might just be that you're on the right path and not lost at all.
Listen to the song here
---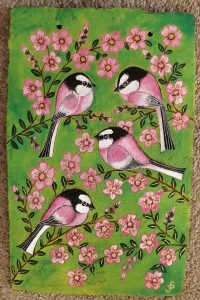 Fran Palmer – Long Tailed Tits on Cherry Blossom (Acrylic on Reclaimed Terracotta Roof Tile)
This work was painted in anticipation of Spring. Recently we have had a lot of long-tailed tits in the garden so I paired their colouring with my Japanese cherry. The cherry represents life, death and renewal.
---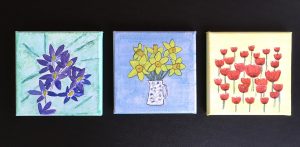 Francis Marriott – Spring Unfolding (Water Soluble Oils)
A triptych of Spring flowers in succession, crocus followed by daffodils and tulips. Growth and regeneration follows a predictable pattern by which we measure the unfolding of the year.
---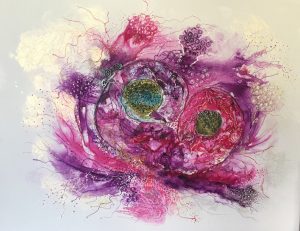 Helen Jones – New Life (Mixed-Media)
This piece of work was made using acrylic inks, string, lace, sequins, tissue paper and outliner pens. It was a completely abstract piece but when finished it gave me the impression that it was two embryos in the womb.
---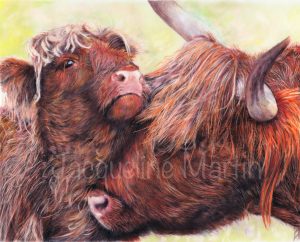 Jacqueline Martin – A Mothers Love (Polychromos Oil Pencils & Pastels on Grafix Drafting Film)
I love visiting these local highlands, and as a Mother and Nanny also, I feel the connection and bond.
---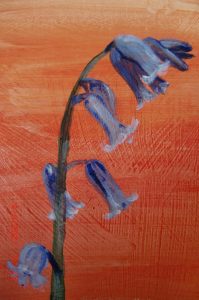 Jacqui Rokodravu – Spring (Mixed-Media)
---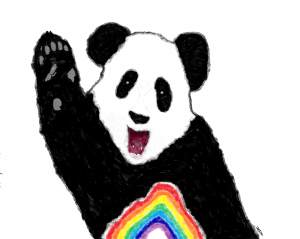 Jan Tyler – Panda (Digital Drawing)
This picture was created on computer using Microsoft paint for a birthday card. It makes me smile and I like how the panda's paw is reaching out for a high five. The rainbow was added, being apt for the moment.
---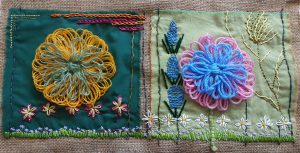 Jane Brown – Untitled (Textiles)
---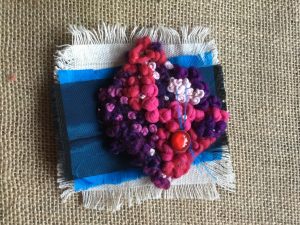 Jennie Davis – Purple Riot (Textiles)
A mass of crocuses appear in the lawn every spring. Bright purple fading to pink. It is a riot of colour.
---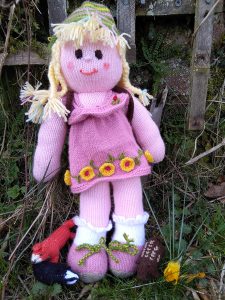 Jude Black – A Springtime Walk in the Dean (Textiles)
I made this doll to celebrate the wild flowers and creatures that are in the forest. She has a ladybird on her dress, a spider and a bee on her hat, and a wild boar, badger and fox at her feet. She loves to walk in the forest.
---
Kate Fedden – A Spring Awakening to a Green Age (Poetry)
The theme for this poem was suggested to a me by a friend of mine who was enrolled on Jane Spray's art course 'Spring Awakening'. It was my elder daughter's birthday and I was reminded of the line from Dylan Thomas' poem, so expressive of the force and energy of spring and young growth.
"The force that through the green fuse
drives the flower drives my green age" – Dylan Thomas
Six decades and one year are gone
Since my firstborn child was born.
Powerless yet powerful:- without concern,
Nothing to do but sleep and feed and grow
Too weak to lift her head; so much to learn.
Snowdrops were there, standing in the snow
And crocuses through concrete pushed their way,
Lambs scrambled wobbly onto their feet.
-All creatures set about without delay
Responding to the season's urgent beat,
While human babies have to take their time:
Smile, chuckle, crawl, then walk, before they climb.
---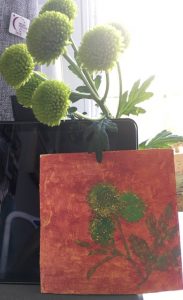 Kath Sammons – Spring (Mixed-Media)
---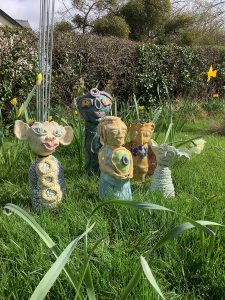 Lesley Gann – Servers of the Seeds of Spring (Sculpture)
From the dark of winter and the ancient place, comes the Seed Bearer and helpers, bringing hope and new life into the light.
---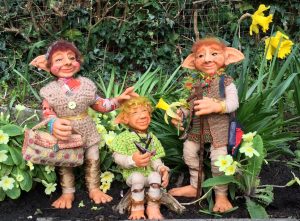 Lesley Luker – Elves of the Forest of Dean (Polymer Clay)
This is Gildor (creator of light and happiness) Yavanna (giver of fruit) and Logon (warm at heart), my Elves with happy smiles for Spring. They are named by my grandchildren who did considerable research into the names of 'The Fae'.
---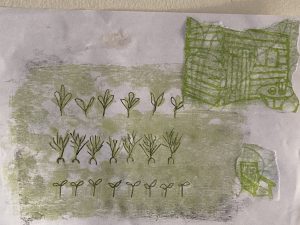 Libby Hall – The Allotment in Spring (Print)
The allotment was and still is my place of security, the only place my children would let me go. Such a wonderful outdoor space and more fruit and veg than you can shake a stick at.
---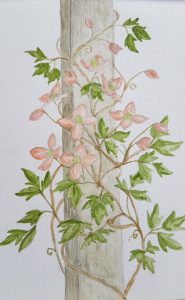 Lin Corcoran – Reaching for the Sky (Watercolour)
I retired last year right at the start of lockdown and although the pandemic has kept me from spending time with my family, it has given me the opportunity to have a go at some art projects. This piece shows the joy of free-flowering clematis scrambling over a pergola in spring.
---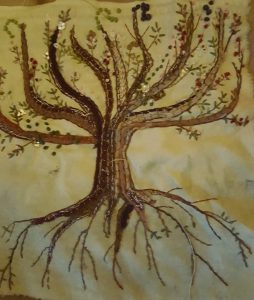 Linda Harvey – New Growth (Textiles)
The emergence of new life, the wonders to behold… spring has sprung.
---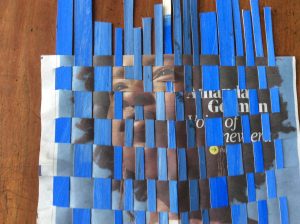 Lorna Stubbs – Spring (Paper)
Spring – the time of new life and new beginnings. Who better to show the hope in Spring this year than Amanda Gorman, the young poet, pointing the way out of the winter of Trump. She heralds Spring's hopeful regeneration to us all.
---
Maggie Pugh – Untitled (Sculpture)
The first lockdown provided time to consider some of the clutter in our home and what could be done to recycle it in a novel way. I thought about the activities I had enjoyed as a child. All things to do with horses featured highly: drawing, riding, grooming, the beauty of their movement. I wanted to regenerate that feeling of joy and respect, using items that were no longer wanted. This horse head is constructed of chicken wire and old supermarket magazines applied as paper mache. I'm still wondering whether to paint it.
---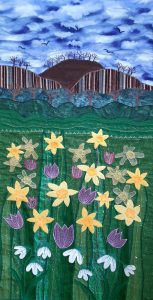 Mary Padley – Spring: New Beginnings (Textiles)
My machine-embroidered panel is a sign of new birth and new beginnings after our forced enclosed lockdown. I have always thought that God knew we would need some brightness after winter, so he created daffodils.
---

Mary Stuart-Smith – Roadmap to Spring (Acrylic & Caulk on Canvas)
In spring 2020 nobody would believe we were going to experience a year of Lockdowns and roadmaps to release. This piece shows Spring (2021) as we enter our final set of restrictions. We can see soil, growth, spring colours and a progression to a sunny summer. With a little sparkle as well. ( look closely!)
This piece was made on canvas using acrylic paint and decorator's caulk for the textures. 
This is only the second painting I have ever attempted.
---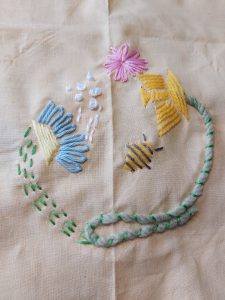 Mildred Bluett – Spring – Sunshine and Showers (Textiles)
This is depicting spring – sunshine and showers. I had not done any stitching before, but did this after taking part in an Artspace textile and stitching session.
---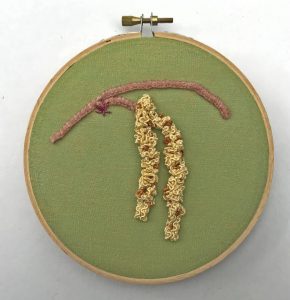 Morag Potter – Hazel Catkins (Textiles)
The yellow silk braid and thread (catkins) were dyed using buddleja flowers; the orange/brown silk thread (catkin pollen) by onions and the pink/brown string and wool (branch) using avocados. These were handstitched onto fabric supplied by Lizzie Godden at Artspace for her online course. I originally sketched these catkins in my garden in February this year, they remind me that spring is on its way with the promise of life and new beginnings, especially important in 2021.
---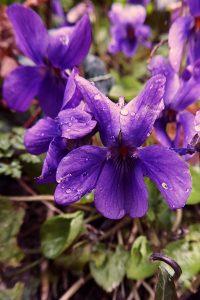 Nettie Lee – Start Wearing Purple (Photography)
Violets always lift my heart as they always seem to be harbingers of better days to come. One day there are none to see, the next there are carpets and swathes of them peeping out from among the trees.
---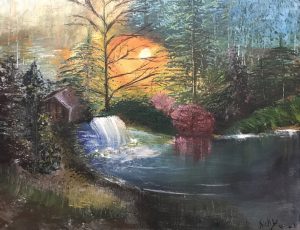 Nicky Bale – Awakening (Acrylic)
I have no prior experience or training and at the age of 62 during lockdown I converted my garden shed into a 'She Shed' and treated myself to some paints and an easel. I can get 'lost' whilst painting and missed being out there in the winter, so have had an electric line and lighting installed. I wouldn't have found this new hobby if it wasn't for lockdown as I wouldn't have found the time; now it's my priority.
---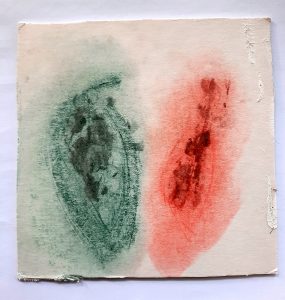 Pamela Jones – Two Leaves (Mixed-Media)
---
Penelope Weedon Kerr – March Equinox (Performance)
As a locked-down musician with no audiences to play to, I spent the time finding out how to make simple videos with musical backing. The result is March Equinox, using my performance of Rustle of Spring, with a little added poem I have penned at the beginning.
Watch the performance here
---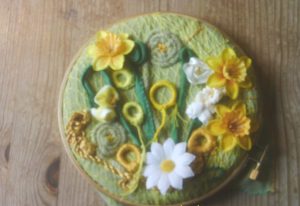 Penny Ballinger – When Life Gives You Lemons, Recycle (Textiles)
This was inspired by an Artspace textile workshop and rummaging through my 'saved for later' collection, including fruit nets and flag day purchases. What else would you do with Macmillan Fund daffodils than stitch them into a piece of embroidery? Recycle and regenerate!
---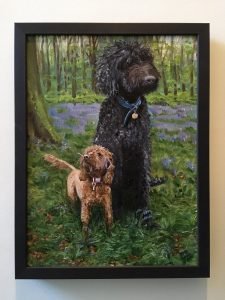 Pip Deave – Poppy and Pebbles (Oil)
Painted for Tamali and Joe whose wedding was cancelled due to lockdown. These are their dogs in the Forest bluebells. Tamali is expecting a baby soon, and the wedding has been rescheduled to next spring.
---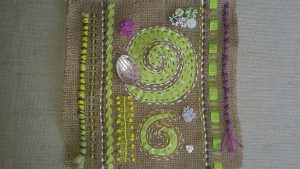 Popi Chadwick – Spring Fern (Textiles)
This piece is is 22cm square and is made using applique, couching, silk embroidery, buttons and a sea shell, all sewn onto hessian.
---
Roger Drury – Age (Poetry)
This poem is inspired by a glade which I have discovered during my lockdown walks – it is as though I am surrounded by the words I use and questions that arrive from being there and by a few image memories from childhood.
It starts again
I follow closely
I'm trying to match the pencil to a word
Blank
It hovers as I wait for it to dive
Plain, white, empty, message
Blank
Thinking watching, frozen
those drones promise danger
It will never end here, never
I am standing on a line
steady- keep breaths regular
thinking ahead I'm hovering over each step
ice on the pond,slip in the mud
don't wait-
dissolve the words that make you hesitate
I do, and I might
fear me, day or night
hear me lapse
Add up- there is not a total
adds up year on year
what's up- be told every birthday
enjoy, stay calm, don't stop
Pile of books, full of words
remember stories
back and forth remember stories
My youth fades
in the novels people last longer
wider gates, steeper steps
on the cupboard frame
the measurements of childhood
lines drawn above my head
should I capture these marks
like pencil shavings
crayon drawings
how else do I grasp it in my hands
this, this, this disappears
up to my neck in silence
up to my neck in silence
it starts again
it starts again
I follow closely
---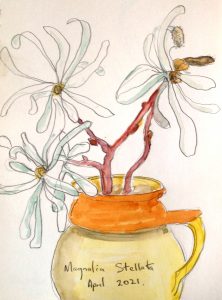 Roger Ryan – Spring (Mixed-Media)
---
Rosemarie Butson – Spring Pansies (Acrylic)
This painting of the pansies growing in my garden reflects a more hopeful start to 2021.
---
Rosie Clarke – Pots (Ceramics)
COVID lockdown hit us in the spring, and I took a lump of clay and thought about turning it into a pot. I'd had a potters wheel for years and never used it, but by that spring I had a space perfect to work in, looking into the garden. Growth and regeneration tally with my feelings as I learnt to throw, and by the summer I had two close friends working with me in the garden, bringing togetherness and vitality as I was able to create a multitude of pots.
 The way the clay responds to the wheel and my hands, and the speed at which it does so is energising and satisfying.
Autumn slowed me down and I spent more time handbuilding by the log burner in the house, making coil pots and plaques. Loss of the warmth and energy of the spring and summer as I changed my pace and focused more on the tactile nature of the clay, it's behaviour as it changes when pressed, rolled or moulded. 
A period of rest and reflection did occur as the new year came … thinking about times past and times to come, planning what to do with my numerous creations and looking forwards to my continuing creativity with clay.
---
Russell Richards – Round Robin and Black Bird

(Audio )
This audio file is made using a field recording of a robin and a black bird doing a sort of call and response in our garden in Gloucester on 27th February 2021. I have applied selective loops to the audio file which has enhanced certain refrains from each of the birds. The result is a wall of sound produced by just two birds. This is a call to a new beginning as two birds mark out their territory and proclaim their existence in the most intense manner. The slow fade out indicates that, in fact, they are not going away.
---
Sally Hayward – Springtime Acrostic (Poetry)
My name is Sally Ann and I live with my partner Mike and Toby our cat. For my hobbies I write poetry, stories and acrostics, going for walks and playing Scrabble. 
Unfortunately I have never been able to work. This was due to a road traffic accident at the age of 11 years. So I have got a lot of time to write. Wherever I go I make sure that I have got a pen and a notebook with me. So if I get inspired I am ready.
Springtime is here, Snowdrops
Popping their heads above
the soil
Remember to put your clocks
on an hour
Imagine what hibernation is like?
Nature
Gives us
Time to
Include
Memorable
Events that have happened and
the past
---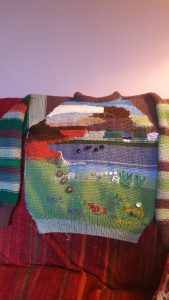 Sally Lomax – What Has Happened To The Machair? (Textiles)
This jumper was inspired by visiting The Western Isles last September. Despite the month it was a rejuvenating experience and felt like a new beginning. It was also an experiment, as I added bits and pieces that were not knitted.
---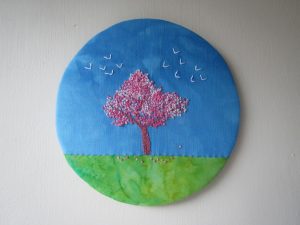 Sharon Shirley – Cherry Blossom Time (Textiles)
During the pandemic I had a lot of hospital appointments. Towards the end of my treatment, I saw the trees along the route to the hospital beginning to blossom. It meant spring, and the start of the road to recovery for me.
---
Sheila Croney – Magic (Poetry)
I was inspired to write this poem after reading about the Druids and their celebration of the equinox, coinciding with me planting veg and herb seeds on my kitchen windowsill.
My mind often wanders down groves of old earth
Where death & decay brew wisps of rebirth,
Where once witches, warlocks, wizard, and crone,
Cast hexes with twitches of blood, nail, and bone.
Life of small creatures of cave, branch, and shaft
Swoon-stolen by moonlight to spirit their craft,
Smoke and foul odour spun round coiled rim,
Howls of pent power roared deep from within.
Mottled clumps of lichen clasped to the trees
Silently witnessed pacts of dis-ease,
Keepers of trysts, sealed in the dark,
Mask secret symbols seared in their bark.
Cast iron cauldron, struck cold by the day
Silenced by sunlight, speared in day's ray,
Orbed spirits are spent in one blink of gold air,
Spotted no longer round bough or mossed lair.
All breathes fresh now, harken deep sighs
As Aspen and Ash cast young to the skies,
Nothing to trap, net, or ensnare,
The arc of sun's journey grants respite and care.
As I sit back in the groves of old earth
Musing the ferment and whiff of re-birth,
Nature breaks through the peat blackened soils,
And old magic displays, as new life uncoils.
---
Steph Smith – The Arrival of Spring (Poetry)
My dormant love of poetry was recently reignited during an Artspace distance learning course, when we were encouraged to make mindful observations of the arrival of Spring. This is one of several poems that I wrote as a result of this process.
O Maister Winter, be off to bed,
A nightcap of Old Man's Beard on your head.
Your hair in dirty rivulets pours,
Your acorn teeth are crack'd in your jaws.
Your rooty feet are gnarly and worn,
Your twiggy fingers with lichens adorn'd.
You've a waistcoat of briars and berries for warts,
And icicles drip from your stoney heart.
O Mistress Spring, awake from your bed!
Throw off your sheet with dried leaves all spread.
Put on your crocus crown firm on your head.
Step into your gold dress of affodyle*.
You've primroses, ivy and quince to reveal,
Heartsease and celandines peep from the weald.
So drape your bare shoulders in violets wild,
Come walk among us and stay for a while.
You bring us the colours and scents of the Earth.
You promise the miracle of land's rebirth.
*affodyle
In Shakespeare's time there were several names for daffodils, such as 'daffydown-dilly'
and 'daffodilly'. It is thought, however, that the name came originally from a very old English word, 'affodyle', which ,means 'that which comes early'.
---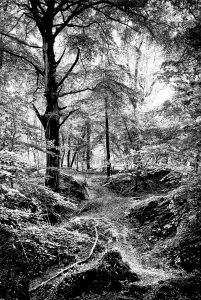 Steve Gaskin – Scowles (Photography)
The Scowles in the Forest of Dean are landscape features which are the surface remains of iron ore extraction. Over time nature has regenerated and gradually reclaimed these man made hollows turning them into fascinating shapes with twisted trees in an otherworldly woodland. These mesmerising shapes add mystery to the enchanting forest.
---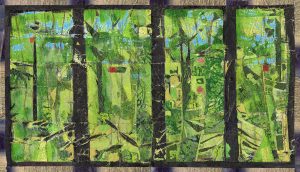 Sue Bamford – Forest in Lockdown (Mixed-Media on Card)
This piece was inspired both by the view from my bedroom window, and the wonderful colours of the forest as it burst into life last spring. During our first lockdown in April and May 2020, I spent a lot of time walking in the forest. I was dazzled by the different colours and patterns I saw, and the sky was frequently a vivid blue. The uprights in my window frame may be interpreted as trees. I tried to make these ambiguous, so that lockdown and containment are represented, together with the gorgeous tapestry of the forest in spring.
---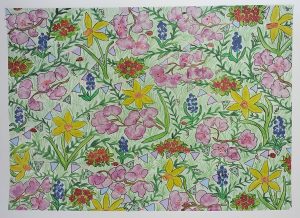 Sue Evans – My Joy's Of Spring (Acrylic)
The colours in this reflect the joy of spring as I feel it. It's a time that invigorates. New life emerges in beautiful ways. There is a promise in the air of good things to come.
---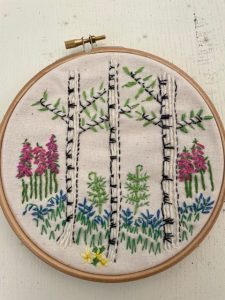 Sue Manser – Spring Fresh (Textiles)
I live in the forest and love the fresh foliage and flowers of spring. Inspired by Lizzie Godden's textile course I got out my embroidery threads (bought in 1976 and never used) to capture them in a style reminiscent of my long-departed mum and grandma's work.
---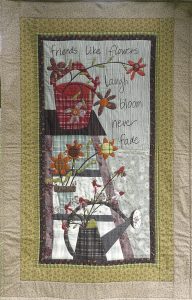 Suzanne Snowden – Friends (Textiles)
I am a lifelong textile enthusiast but a career has resulted in less and less time for hobbies. Lockdown changed that giving time to focus on hobbies. But nature carries on regardless of lockdown, giving hope. Lockdown started in spring and growth and regeneration has taken many formats, creativity, friendships, hobbies and shared interests. This quilt uses fabrics collected over the years, it is grown around the centre panel, which has been machine stitched and quilted to emphasise the outline, by adding complementary colours and patterns to frame the image. Measurements are 138cm x 88cm.
---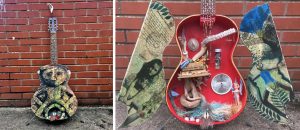 Tracey Dixon – Sheena-la-gig (Sculpture)
A visit to Kilpeck Church, an introduction to the artist Joseph Cornell and then being given an old guitar, inspired this work. The curvy female shape of the guitar, inner reflection of my Self as a musician and singer, the effects of lockdown, all combined with my peri-menopausalism led me on a journey to create a Sheena-la-gig. She shares the attributes of spring being a Goddess of Growth, Fertility and Birth. During construction, we all really noticed the birds singing, chicks leaving their nests and the garden's magic.
---
Val Ormrod – Growing Pains (Poetry)
Words wait in your head like seeds,
until a random thought propagates,
an idea grows roots, reaching
deep into your brain for neurons to spark
and fizz, to fire imagination,
to germinate in inchoate form.
Tentative, its first shoots are frail
and tender, ready to shrink back
into the soil and turn to mulch
at the first hint of uncertainty
heralding the acid rain
of your inner critic's contempt.
Some roots will endure,
seek nourishment, be nurtured,
allow their buds to burgeon.
More words will sprout, be pruned and shaped
until the insistent beat of a new poem
grows stronger, demands its own space
and rushes to blossom on the page.
---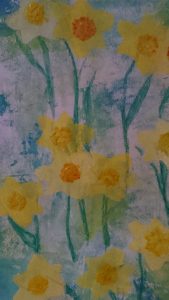 Wendy Tyrrell – Regeneration (Print)