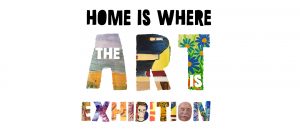 Summer
Togetherness and Vitality
As the weather gets warmer, we all emerge and begin joining together in outdoor spaces once again. We have arrived at Summer – a season of togetherness and vitality.
---
Watch the 'Summer' Exhibition Video here
---
*Click on the images to enlarge them.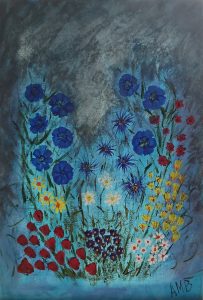 Alison Bluett – Storm Brewing in the Summer (Watercolour)
I was inspired by the flowers in the garden, I am normally very busy, but the lockdown gave me chance to paint which I enjoy.
---
Ally Goff – Family Ties (Sculpture)
I was in self isolation for the first 8 months of lockdown 2020. During this time I used creativity and making as a means of expression and understanding what we were all experiencing. This artwork, made partly from pieces of my work, was staged in my back garden on a piece of garden membrane. The bright sunshine created the shadows that bring this composition to life, revealing the strong bond of mother and child, the power of togetherness, and the connection this evokes.
---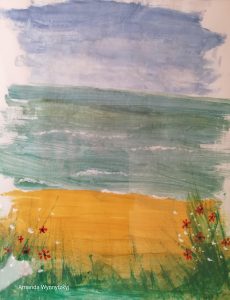 Amanda Wynnytzkyj – Untitled (Gouache)
The rolling waves along the shore crashing into the sand with varying ferocity reminds me of our lives. Turbulent and gentler times, ever changing. The holidays we all crave meeting loved ones for happy times, care free, breathing deeply the sea air that dispells the fug and filling our lungs with a purity that can overwhelm yet revitalise. To sit at the water's edge and just feel. Just be.
---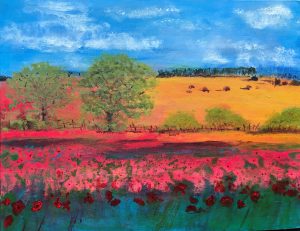 Ann Fairman – The Best of Summer (Acrylic)
This scene of poppies and cornfields was painted using acrylics on canvas. I wanted to capture the vitality of the British countryside on a hot summer's day.
---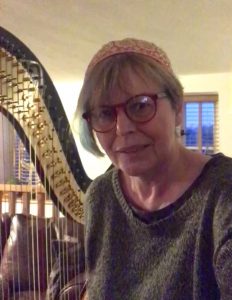 Annie Tyhurst – Harpist in a Hat (Photography)
Many people have never heard the harp played live and, as a music therapist, I know about the comfort that music can bring. So during the first lockdown, I made a series of harp 'broadcasts' on a local Forest of Dean COVID Facebook group. And the hat? Well, everyone has had to endure bad hair with hairdressers closed, so it seemed a good idea to use my extensive collection of hats!
Watch and listen to a harp performance from Annie here 
---
Annie Tyhurst – Make Your Own Junk Food (Book)
During the first lockdown my daughter and I collaborated on a book of recipes, 'How to make your own junk food'. It was an idea we talked about together, but never seemed to find the time. And with most 'junk food' shops shut, making your own healthier options seemed like a good idea. The starting point, as outlined in the introduction, was my daughter's love of anything coated in orange from the 'Golden Arches' outlet, and her deep suspicion of anything deemed 'healthy'. At university she developed a taste for 'pizza swirlies', a kind of pastry, tomato and cheese concoction. When she visited I offered her some homemade ones. Nibbling with great caution she eventually said, 'they're like pizza swirlies only… I think they might be better!' So that was the inspiration for our small book of recipes. We funded a small print run ourselves, and decided to donate all the profits to food bank charity, The Trussell Trust. We've raised over £400 (still have a few left at £5 each, or free if on a low income).
---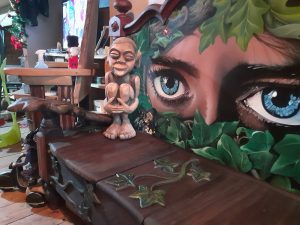 Becky Roberts – Earth Witch (Sculpture)
I created this bench during lockdown, in dedication to my mother Louise Lawrence. It's made entirely from what I had around the house and garden – the front legs were hand carved from a rotted out fence post, the raised ivy pattern was from an old fence feather board, and the stain was made from wire wool cider vinegar and blackcurrants. The elf sat on the bench was carved during lockdown too, from an old log back pine I had in the garden.
---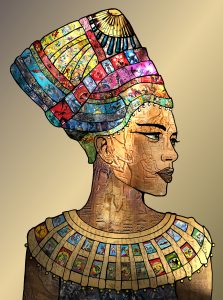 Bob Garland (aka BLZ Bob)  – Warm Winds from the Queen of the Nile (Digital Collage)
Turned 65 last January, shortly followed by redundancy. Brilliant! A pay off and I get to retire a year early. Thought I'd have a go at being an artist and the lock down has given me chance to build a portfolio. My digital collages are made from vintage comic covers, newspaper headlines and advertising, symbolism and a bit of magic.
---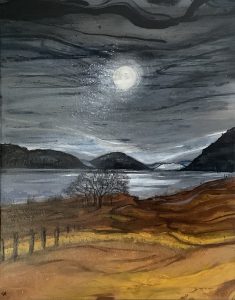 Carol Knight – Lakeside Holiday (Acrylic & Mixed-Media)
Lockdown lifted and optimism refuelled, we book a last minute family holiday. We gather at Hillside Cottages to reconnect after months apart. The weather is kind and our wellies stay in the boot. We spend our days walking, lake swimming and boating in the shadow of the Old Man of Coniston. The sky is clear and we spend a perfect summer's evening stargazing on the lakeshore. We reflect and give thanks.
---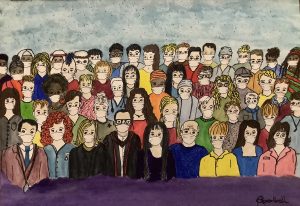 Carole Goodhall – Communities Together (Watercolour & Ink)
2020 to 2021 has been the most difficult time for everyone. The pandemic has brought fear, worry, loss and isolation, and at the same time; togetherness throughout the world. My artwork is representing all people around the world, in their masks, coming together, to help each other.
---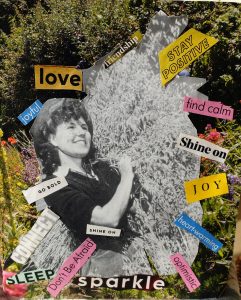 Carolyn Gemson – Bringing in the Sheaves (Collage)
Made for my aunt who was a landgirl, showing what we share across the generations and celebrating her vitality at 90.
---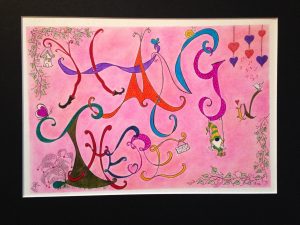 Carolyn Kilburn – Hang in There (Ink & Chalk Pastels)
I have really enjoyed developing my artwork over the last year or so through lockdown and with the support of my family and friends got the courage to set up an Instagram account to show this. Instagram has built my confidence in getting myself out there, which is something I thought I would never do as social anxiety is something I have to deal with on a daily basis. I use it as a little gallery just for me, which keeps me motivated, and of course its lovely to get feedback to keep going. Lockdown has enabled me to develop my art style and learn more about how to use social media. But also friends and family have also commissioned me to make pieces, to give as presents to their friends and family! My piece, called 'Hang in there', is for anyone struggling in these difficult times to try and stay positive and keep going. Times will get better even though this is hard to see at the moment. I like to put a 'little lovely' in to someone's day and if it lifts them up and makes them smile, then that makes me happy.
---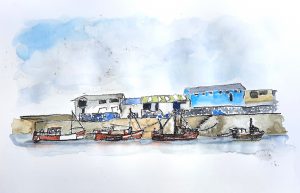 Cherry Lyne – Potters at Aberystwyth (Watercolour & Ink)
Watercolour tinted monoprint. The crab boats at Aberystwyth are a well-known feature of Aber. My younger daughters went to Uni here and my youngest had her final year ruined by lockdown. She returned for a Masters and we helped her buy a flat. We are now irrevocably connected.
---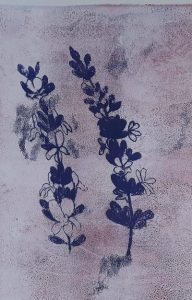 Clancy Ward – Sweet Lavender (Mono Print)
Part of a set of mono prints inspired by the 'Home is Where the Art is' printmaking course with [Artspace artist] Melanie Clarke, depicting the impressions, dreams and memories I have of my local area during the past year. I feel so lucky to live in the Forest of Dean and to be surrounded by such beauty and I immerse myself in the forest as much as possible.
---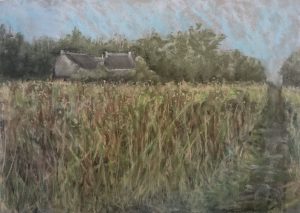 Ellie Thomas – Cotswold Meadow (Pastel Paint)
This painting depicts a meadow path along the Cotswold Way where I walked last July.
---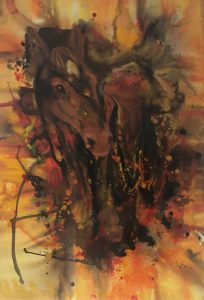 Fiona Channon – Indian Shaman (Acrylic Ink & Pastel)
This painting shows the connection between Man and Nature and the unspoken bond between Man and animal. The vitality is represented with the Orange colours and shows intensity but softness also. The energy between the two when in balance is so harmonious and easy and this is what I hoped to portray.
---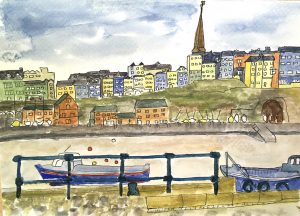 Francis Marriott – At the Harbour (Watercolour)
A small harbour in summer can be a place full of life that brings people together to take boat trips, look at the view, or simply to sit a while and let their senses soak up the smells, noises, movement, colours and vitality of the scene before them.
---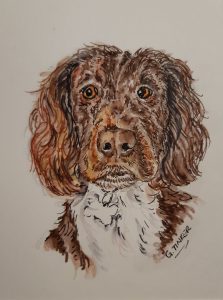 Gail Harrison – Neville (Pen)
This is a drawing of my nephews dog, done in water soluble pens. As I haven't been able to get nice birthday cards in lockdown I have been making my own cards. This is a young dog full of vitality. We haven't been able to see my nephew, his wife and 1 year old daughter during lockdown and after he received the card it prompted him to get in touch, which has brought us closer.
---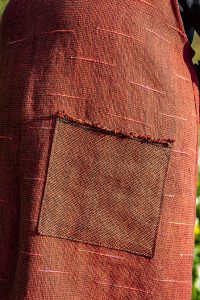 Gaynor Thorp – Nasturtiums (Textiles)
A weaver experiencing a summer with nasturtiums in their full glory of intense colour, an artist painting the very same subject. We discussed the velvety depth of the orange that was impossible to capture, be it with coloured thread, watercolour or oils. I wove a length of fabric in linen using differing shades of oranges and reds with both the blazing colours of nasturtiums and my artist friend, Mariette, in mind. I sewed the fabric up into a wraparound apron for her to paint in. I never did capture that elusive, magical, vibrant intensity of summer.
---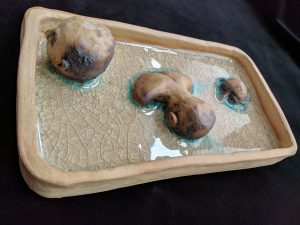 Georgie Meadows – Together or Not (Ceramic)
This ceramic shows people swimming together, the possibility of COVID infections making the swimmers anxious and wary of each other.
---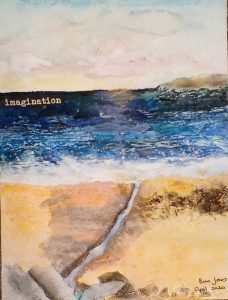 Helen Jones – Imagine A Place To Be (Mixed-Media)
This piece of work was created during the first lockdown in 2020, using tissue paper, ripped pieces of paper from previous scrapped work, acrylic inks, pastels and salt. At this time travelling and holidays were not possible so imagining a place where you would like to be was the next best thing. For me, this beach scene visualizes summer, with the sun and sea being strong and energetic with the power to go on living, the feeling of aliveness.
---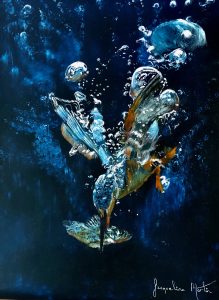 Jacqueline Martin – Kingfisher Dive (Oil on Pastelmat)
I wanted to try and challenge myself by using a different technique on both a medium and surface that I've never personally used together before, with subjects that I have a genuine passion for – Wildlife. This image gave me the courage to just dive straight in. Firstly I created a blended oil under painting to help give it depth and movement. Once dried this allowed me to apply oil paints on top being the kingfisher and air bubbles. I used oil pencils for finer detail. (Polychromos). This experiment has taught me not to be afraid to try things that you may think are out of your depth.
---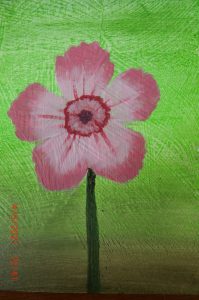 Jacqui Rokodravu – Summer (Mixed-Media)
---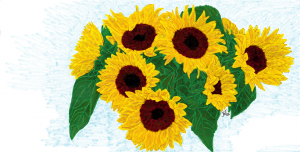 Jan Tyler – Sunflower Bunch (Digital Drawing)
Picture created on computer using Microsoft paint using a photograph of a bunch of sunflowers I was given. I wanted to capture their brightness and energy.
---
Jane Rennard – "Stay Home, Stay Safe" (Creative Writing)
Dreading the enforced isolation.
LOVING the enforced isolation.
Angry words after an accidental, illegal hug.
Loving words after a deliberate, legal hug.
Kindness, creativity, astonishing selflessness.
Astonishing selfishness.
Guilt for the joy of having my daughter at home from university in London. Dissertation submitted. Degree gained. Graduation cancelled. Unemployment at 21. A young life on hold. Stoic yearning to return to the city for her. A gift from the universe for me.
Box sets. Booze. Bubbling belly laughs. Books. Boredom.
"You're on mute". Life's on mute.
Solace in the garden. A magenta dahlia punching me in the eye with a joyful fist.
A pop-up MoodSwing discovered in the woods at Soudley Ponds: "you haven't asked to be pushed since you were 5 years old!"
Night sweats, vivid dreams, insomnia hypochondria – is that a cough?
Cherishing our bubble: Our mums, vulnerable only by age. My daughter, vulnerable only by age.
Guilt again – we are unscathed.
Gratitude. My daily mantra: 'we are all safe and well'.
---
Jane Spray – Lockdown Lamb (Poetry)
A poem written last May, so it is on the cusp of Spring and Summer. Vitality is there, in the form of the lamb: a half grown lamb, and very strong. A thwarted and longed-for togetherness is there too, wishing for my daughter to be with us – both daughters really – and to be able to give them a hug.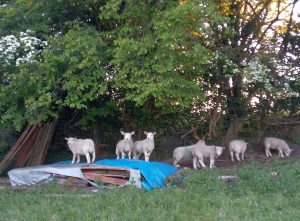 In the dark of the stumble-fold field, tussling
to remove its stuck-ness from the fence,
I hug the lamb, and feel its life force spring
as, sudden-free, its four-legged leap
takes me flying.
Waking to birdsong, clear as the air we breathe, I draw
the curtain, see a novel cloud trail
powering through this morning's ghost moon
in the otherwise unblemished blue.
People on the move, on the go, across the sky again.
I'll stay grounded, right here;
picking rhubarb, picking wild strawberries;
only going, when I have to, like a masked bandit, to the shops.
My daughter, London-locked, wants a photo of lambs.
Wish she could be here instead. And I could give her a hug.
---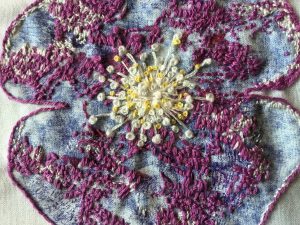 Jennie Davis – Full Bloom (Textiles)
Imaginary flower head in full bloom. I made a stamp and printed onto cotton fabric then embroidered during lockdown.
---
Jolie Marchant – Perk up Pecs and Activate Abs! (Poetry)
As the gyms closed for training during lockdown, over the past 18 months, trainer Gordon emailed us, his 'senior members', a programme of exercises to carry out at home. I wrote this poem to inspire others who were battling with exercising from home.
I love my daily training,
a programme set up for home.
Keeps me perk and active
while spending time alone.
Starting slowly, warming up
my aching major joints,
I follow Gordon's plan
to earn my 'brownie points'.
Upper body arm rotations
elegantly in motion,
gets passing neighbours waving
as they witness the commotion.
I grab a wooden spoon,
get ready on the mat,
for the crazy Russian twists,
while wearing my Cossack hat.
As the Red Army Choir sings,
I swing from side to side.
Reaching for my hips
my joints come alive.
After seated dips and flutter kicks
I take myself in hand.
To concentrate on balance
I try the tandem stand.
For other balance workouts
in kitchen, lounge or hall.
Posing a flamingo?
Need support? Use the wall.
For intercostals and obliques
I'm kayaking on the floor.
To propel myself along,
use a paddle, not an oar.
Into lounge with arms aloft
I dry swim butterfly and crawl.
My breast stroke's causing carpet burns
as I edge towards the hall.
Now I'm seated cycling,
push legs with agility,
keep motion slow, controlled,
to gain flexibility.
So I follow Gordon's guide
and motivate myself.
Listen to my body
and focus on my health.
Lack of sparkle, weary,
or occasionally glum?
Raise a laugh while raising your calf.
Relax, make it fun.
---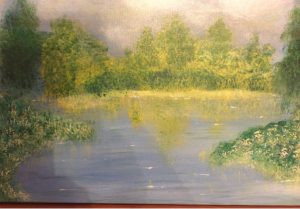 Joy Thomas – Tranquility (Acrylic)
I started painting landscapes during lockdown to keep myself occupied and creative. I have always loved crafting of any kind but found I could really lose myself in painting. I had done acrylic pouring previously but this is the first time I have tried painting landscapes and I wanted to create something peaceful and reflective.
---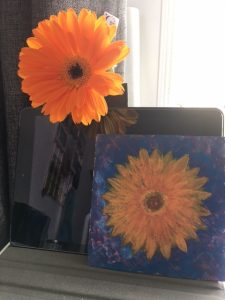 Kath Sammons – Summer (Mixed-Media)
---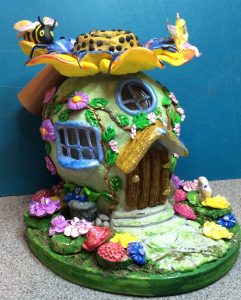 Lesley Luker – A Fairy House (Clay Sculpture)
Lockdown has been hard on all of us and I'm sure that we've all had good days and bad days. In the middle of Winter on a particularly down day my husband said to me, "make something with bright colours!" So that's how this fairy house came into my mind thinking of Summer, everyone that saw it smiled so I think it worked.
---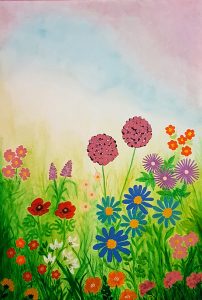 Lin Corcoran – Summer Days (Acrylic)
Capturing the vibrancy of a summer meadow.
---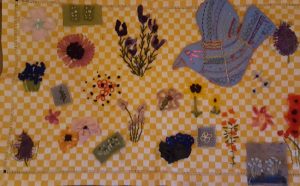 Linda Harvey – Blooming Marvellous (Textiles)
A celebration of hot summer days and gardens everywhere shining their hearts out.
---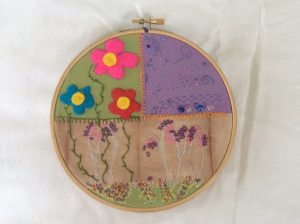 Lorna Stubbs – Summer (Textiles)
The rich brown earth solid beneath our feet but through which the tender flowers flourish and dazzle us with their bright colours. They are fed by the source of life – water.
---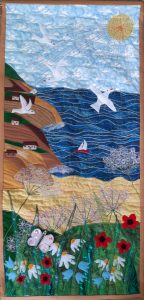 Mary Padley – Summer: Freedom! (Textiles)
I am looking forward to having freedom like the gulls and butterflies. To see the sea and sunshine after the 'dullness', 'isolation' and 'imprisonment' of lockdown is one of my hopes for the future. I do feel that lockdown has given me a new appreciation of God's creation.
---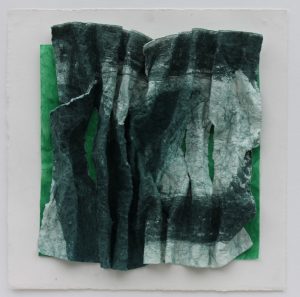 Melanie Clarke – All The Way Through (Paper)
This piece – an etching on creased, folded, torn paper – refers to the point just before summer turns into autumn; the summer leaves at their dusty, heaviest, darkest state. Catching sight through the trees of sunlight on a further plantation in the forest.
---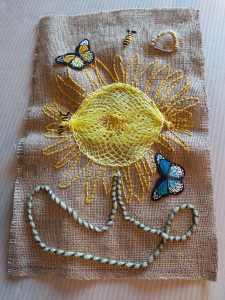 Mildred Bluett – Summer (Textiles)
I created this piece during Lockdown after taking part in an Artspace zoom session. In a small way I hope that it represents togetherness and vitality with flowers, butterflies and bees, all necessary for life on our planet.
---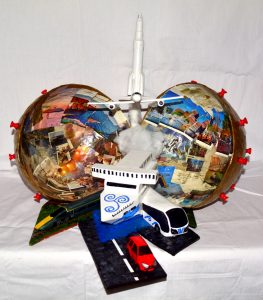 Nigel Gisby – The Great Escape (Mixed-Media)
This piece – made by recycling materials that have come to us during COVID (pallet wood, magazines, Amazon packaging, etc) – is a depiction of how we are going to escape the COVID lockdown. Meeting up for holidays, seeing family and friends living away, then getting a chance to explore the world again; to enjoy the great outdoors with a new vigour.
---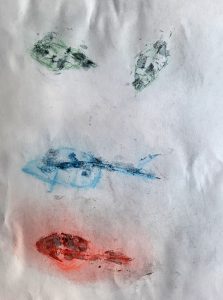 Pamela Jones – Paper Fossils Little Fish (Mixed-Media)
---
Penny Ballinger – Ephemeroptera: Live For a Day (Textiles)
Less of a butterfly more of a Mayfly hovering over a satsuma net pond. Crawling out of a lockdown on the bottom of the pond to live for a day! Anxiously looking for a pub with outdoor seating… Sitting in the rain with a pint and a scotch egg. Normality and vitality! Making the most of the moment!
---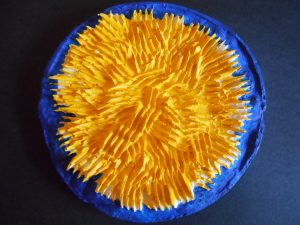 Pete Stanway – Deconstructed Dandelion (Mixed-Media)
---
Pip Deave – Viney Hall Pilates Video Club (Video)
At the beginning of lockdown we suddenly had no patients coming to the clinic and no classes. We quickly had to learn new skills, taking consultations and classes onto Zoom, and making lots of videos for our Pilates clients as a way of keeping everyone together and carrying on. This was made to promote the videos.
Watch the video here
---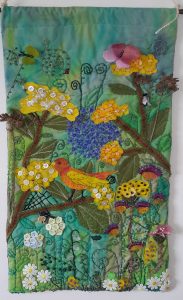 Popi Chadwick – Songbird in the Garden (Textiles)
This piece is mainly applique fabrics using different embroidery stitches, fabric painted bird and flowers with beaded highlights and insects. Measures 29cm by 50cm.
---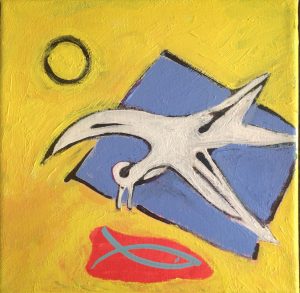 Roger Ryan – Summer (Mixed-Media)
---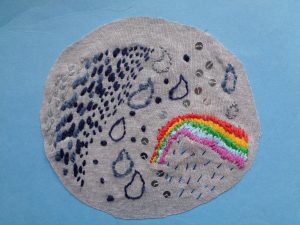 Rosemarie Butson – Summer Showers (Textiles)
This textiles piece reflects the vitality of 'Summer showers' and also pays some homage to the rainbow symbol to demonstrate 'Togetherness' that we experienced during our lockdowns.
---
Sally Hayward – Summertime Acrostic (Poetry)
Summertime we do get
Unpredictable weather's
Many go on their holidays
some
Moan, but the lighter
Evenings make all the
difference
Recall going on holiday
Touring
In our caravan, many happy
Moments
Everyday is never the same
two days running
---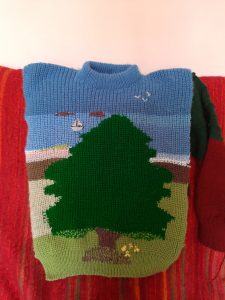 Sally Lomax – Where's the Picnic? (Textiles)
This tree so large and so very green holds all the desire for Summer warmth. But the knitting of it in a warmer stitch, with a higher collar is acknowledging that change will come. I don't use a pattern but watch what emerges to express what I feel. This jumper is not finished yet.
---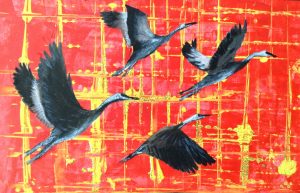 Sheila Croney – Summer Flight (Collage)
This collage-type piece was inspired by seeing the different kinds of geese around the ponds in the forest when walking the dog in the summer. I have always loved the form of flying geese, herons and cranes and Japanese art work so tried to combine them.
---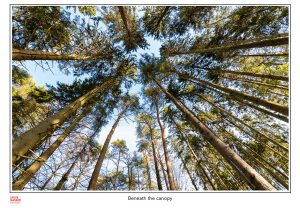 Steve Gaskin – Beneath the Canopy (Photography)
I love photographing trees – they have a mystery about them and the foliage and the shapes they create provide some interesting opportunities. The vibrance of colour as the trees reach their summer peak show the Forest in all its glory. I like to photograph them from different perspectives in order to create an atmospheric effect. Using an extreme wide angle lens emphasises the height and breadth.
---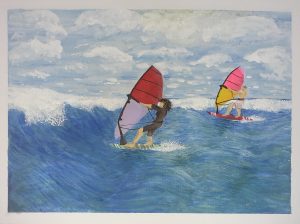 Sue Evans – Summer Breeze (Acrylic)
In this one I've tried to express the exuberance and energy of a carefree day of summer spent with friends. The vitality of harnessing nature to achieve.
---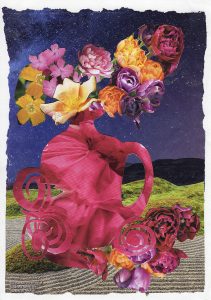 Sue Haverly – There's Still Life! (Collage)
This piece was made as part of the Artspace 'Reimagining Still Life' workshop. Glorious, vibrant summer flowers lift the heart's spirit while the vase – part of a photograph of a fabulous evening dress – looks as if it's about to dance away across the fields and hills to freedom and fun. If only. Maybe this year!
---
Sue Manser – Sizzling Hot Summer (Acrylic)
I think that this acrylic picture I created during the recent 'Inspired by India' course depicts 'togetherness and vitality' as these two friends dance in the hot summer sun as though no one else is watching – just for the sheer joy of it!
---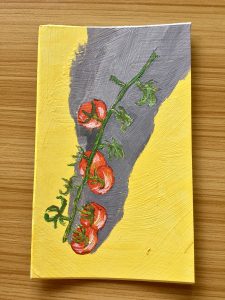 Terry Emmett – Summer Fruits (Mixed-Media)
---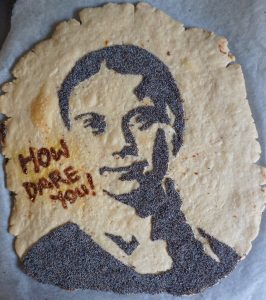 Tracey Dixon – Peculiar Pastry Portrait (Mixed-Media)
"Summer with Greta" was aired on Radio 4 in July 2020. Campaigner Greta Thunberg described the remarkable and tumultuous past year of her life and makes a passionate plea for action on Climate Change. Not yet in the Summer of her life, but way ahead of most in so many ways, she has really touched my soul. When [Artspace artist] Warren Day encouraged us to make a portrait of somebody using food, it had to be her. She is a strong warrior, but also fragile like brittle pastry, like our planet.
---
Val Ormrod – Dear Auntie, (Poetry)
I saw your Facebook post
smiling as you turned ninety
alone
your planned party abandoned
with one daughter stranded in Thailand
all flights forbidden,
and your other daughter shielding a sick husband
your only visitor your grandson
carefully placing the casserole he'd cooked
on your doorstep
returning to his car for a cake baked specially
half-choked by chocolate
and candles, each one
marking a decade of a life
well lived.
You posted that photo too
showing him in your front garden waving
and blowing kisses.
(He knows he mustn't kill Grandma.)
On Facetime you held up my flowers
delivered promptly
but still bashfully hiding their bloom
behind the confines of tight buds.
They looked meagre, inadequate,
unprepared
for such a momentous day
as if their plans to blossom had been thwarted too
though you assured me
they will be beautiful in a few days.
I wanted them to be beautiful now
like you
smiling your radiant smile
never complaining
expressing your gratitude
just to be alive, still alive
and smiling,
still smiling.