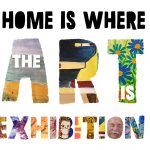 Winter
Rest and Reflection
We're now at the final season of our journey through the year, and through the exhibition – it's Winter, a time for rest and reflection.
---
Watch the 'Winter' Exhibition Video here
---
*Click on the images to enlarge them.
Ali Black – Iron Ore Stream in Winter (Mixed-Media – Acrylics, Paper, Charcoal and Dye)
I stood in front of my my easel with a big white canvas in front of me and I closed my eyes and thought of all the walks I have taken over the winter lockdown. I thought about my surroundings, the things I have seen. The tree represents the loneliness of so many, the iron ore stream is a colourful hope of the things to come and the undecided winter sky is in tune with the undecided dilemma we have all faced during the pandemic. My family say it reminds them of battlefields… maybe what we have all been through has been a battle.
---
Amanda Wynnytzkyj – Our New Normal (Poetry)
This was written during a Creative Writing workshop at Artspace.
I remember being told not to come in to work for now,
I remember for now turned into forever,
I remember the images on T.V. of infection,
I remember loss,
I remember thinking 'Not here',
I remember being wrong,
I remember creating, in felt, acrylic, watercolour and clay,
I remember that it was good, it was bad it was ugly too,
I remember that normal had disappeared,
I remember my first lunch with my sister in the sun,
I remember the warmth on our faces and on others too,
I remember the new normal linking our lives,
I remember the positive feeling inside.
---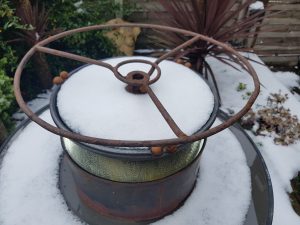 Andrew Niblett – Reflecting on History (Sculpture)
For many years, I have worked in a local pottery. Lockdown changed all of that – we were made redundant and this enabled me to spend more time on my own creative journey. I incorporate found battlefield relics in my pieces, this one is a WW2 ambulance steering wheel, but couldn't think of how to use it – lockdown gave me the time. Summer rains, summer sun, winter ice it's battled through.
---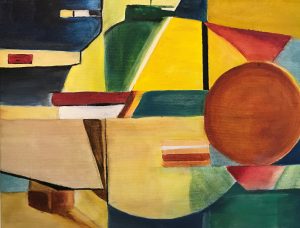 Ann Fairman – Let The Light In (Acrylic)
This abstract painting in acrylics on canvas was painted for fun to brighten a dreary February week during lockdown 2021.
---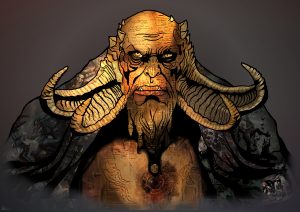 Bob Garland (aka BLZ Bob) – The Dark Knight of Winter (Digital Collage)
Turned 65 last January, shortly followed by redundancy. Brilliant! A pay off and I get to retire a year early. Thought I'd have a go at being an artist and the lock down has given me chance to build a portfolio. My digital collages are made from vintage comic covers, newspaper headlines and advertising, symbolism and a bit of magic.
---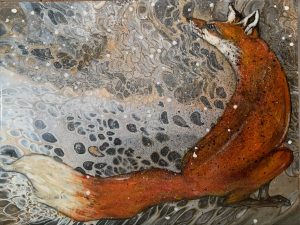 Carol Knight – Winter's Fox (Acrylic & Mixed-Media)
COVID had cancelled Christmas and spirits were low. Love came at a distance, only. Standing at the window as winter darkness fell, I saw it. A flash of russet and a blink of white brush, the fox slunk past, skinny ribs low to the ground. The Christmas lights softly illuminated the deserted bird table and the feast below was his alone. Cautious at first, but then bold, he took his fill. Hunger sated, he dissolved into the darkness – a night wraith and winter's fox.
---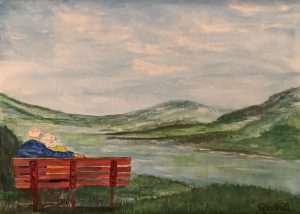 Carole Goodhall – Reflecting (Watercolour & Ink)
I find a time to rest and a time to reflect, is wonderful, sat on a bench, looking out over the water. My painting is of an elderly couple, enjoying a cuddle on a bench, looking out over the water. They are chatting about their life together, the holidays they have had, and their family.
---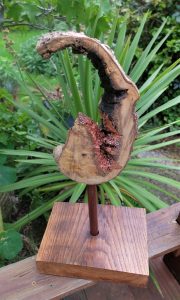 Carolyn Gemson – Still Hope (Natural Materials)
Cut and gilded ash dieback attacked timber. Reflecting that even through all the death and loss caused by this pandemic, there is still beauty and stillness.
---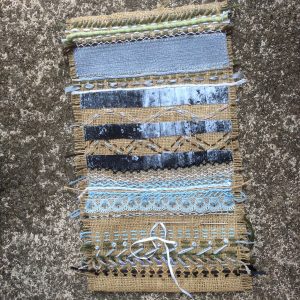 Cathy Banks – Winter Colours (Textiles)
I had fun creating this piece with a large needle and winter-coloured fabrics and threads. Very therapeutic.
---
Celia Hinton – Old Age (Poetry)
As I edge inexorably towards the winter of my years,
threads of cataract mist roll up the valley,
seep into my eyes, thicken into a deafening fog.
Bitter frost aches joints,
freezing the bones' core of stark trees.
I sink into Winter's deep dark Yin:
hedgehog- hibernating,
staring into the spitting Solstice fire flame,
seeking the promise of another Spring.
---
Celia Hinton – My Mother's Pantry (Poetry)
I don't remember if a hard winter was forecast
but the pantry's full of Kilner jars
of spiced cinnamon scented apples from the wood,
bottled plump red raspberries,
tart blackcurrants to burst on the tongue
in crumbles and flaky pastry pies,
sour goosegogs and blackberry jams.
Steeped plum vodka and sloe gin for the grown-ups,
sweet blackberry vinegar to tenderise meat,
fat onions, their papery kite-tails trailing over the shelf edge,
spuds in stout paper sacks
and salted Scarlet Emperor runner beans,
wrapped apples to stuff with butter and juicy raisins.
Mint relish to tang roast lamb lunches,
chutneys and aromatic jellies for cheese.
Elderberry tincture against colds and flu,
hawthorn for poor circulation.
Summer's harvest, picked, pickled and potted.
---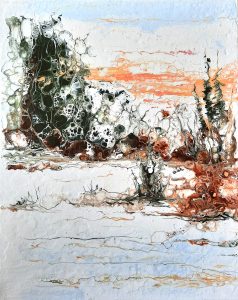 Cherry Lyne – Sunrise over Edgehills (Acrylic Flow)
Acrylic flow medium on canvas this feels the chill and bleak sun that doesn't warm a winter morning.
---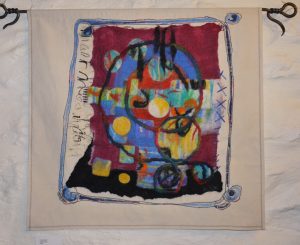 Christine Waygood – Untitled (Textiles)
---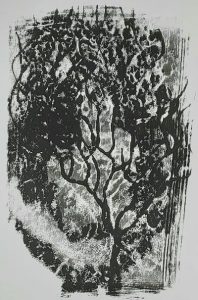 Clancy Ward – The Reflection Tree (Mono Print)
Part of a set of mono prints inspired by the 'Home is Where the Art is' printmaking course with [Artspace artist] Melanie Clarke, depicting the impressions, dreams and memories I have of my local area during the past year. I feel so lucky to live in the Forest of Dean and to be surrounded by such beauty and I immerse myself in the forest as much as possible.
---
Deborah Gregory – Drop In On The Future (Poetry)
This poem was written when all we could do was reflect a brighter future.
I'll drop in on the future
when this is over,
sit with a friend in a warm kitchen
drinking coffee
eating cheese
talking of shoes and plants
and what the dog did on his walk
the other day.
I'll drop into the greengrocers
pick up oranges
weigh them in my hands
smell them
squeeze them.
I'll choose which bunch of asparagus
pleases me most.
I'll walk the coastal path
drop down to a beach
dangle my toes in a rock pool
select one cockle shell
eat chips while the sun sets.
I'll hug my friends, my sisters, my children,
with fresh ferocity.
I'll write a song of praise for carers
drop all pretensions
of ever being slim or young
again
fall into old age gratefully
understanding it at last.
* The title of this poem is a quote from the novel: 'Pereira Maintains' by Antonio Tabucchi.
---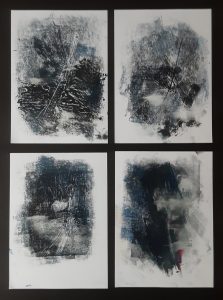 Diana Gash – Just a Touch of Warmth (Monoprint)
In Winter 2020, a quiet resignation prevailed. I weathered the first ever Christmas Day in 77 years spent alone. Boxing Day I met my loved ones in a freezing and windswept garden and felt a welcome touch of warmth.
---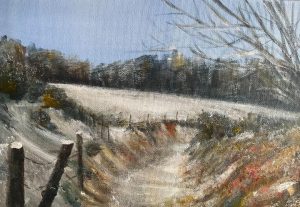 Ellie Thomas – Winter Walk (Acrylic)
Snow makes everything seem 'quiet'. This piece attempts to capture the quiet mystery and beauty of an untrodden path. My inspiration for this piece came from a walk around the edge of Cleeve Hill in January this year.
---
Felicity Edwards – The Silent Forest (Short Story)
Before lockdown, I took part in a challenge to paint and hide a rock every day. I enjoyed it so much that I kept going after the challenge ended – I still hide at least one per day! It gives both children and adults a jolt of pleasure finding one. I also love writing, so I wrote a story based around some of the rocks I made.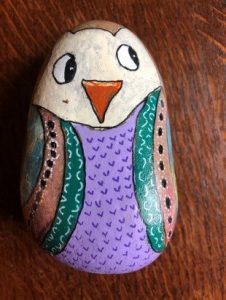 Silabet glided silently between the branches. She loved the cold and the silence of the season. Great fluffy flakes of snow drifted down to the ground. She marvelled as the snow always made the forest quieter as if it absorbed sound as it floated towards the soft soil. This was strange, though. She had noticed a change in the behaviour of the humans.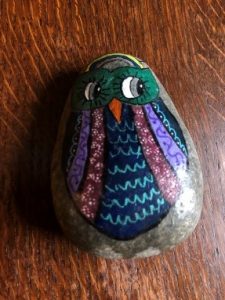 For a start, there were fewer of them about, and they did not stay long. Merely took their dogs walking then off into those noisy monsters and gone. What was happening? The Forest needed an inhabitants meeting. Surely someone would know what was going on? She flew on to Robert's roost. She knew to be careful when disturbing him. He was senior in terms of owl years but so unpredictable that the Inhabitant's Council had passed the leadership to her. She made sure in major decisions she consulted him first. That kept his slightly ruffled feathers smooth.
She said, "Robert have you any idea what's happening? Why is everywhere so quiet?"
He harrumphed. "I don't know or care. It's sure to be something to do with those dratted humans."
She nodded her head. "Yes, I thought so too. We should have an inhabitants meeting at moonrise tonight. That sort of time should mean everyone can get there. You'll come, won't you?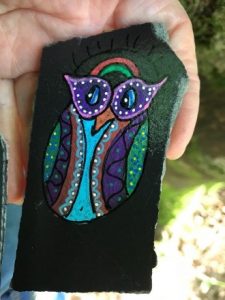 She flew right to the other side of the forest where Jessica owl lived in a big old oak tree much like her own. Only hers had been in the family for generations. Large and comfortable inside with layers of soft feathers from ancestors to her own.
As the pallid full moon lit up the clearing around Silabet's roost, the animals started to come. All except the squirrels, who were warm and cosy in their dray. One squirrel, Fenella, stuck her head on the ledge of the hole in the tree and looked down at the assembled creatures.
Clearing her throat, Silabet said, "Have you noticed things have changed latterly? That roar from the black path is silent. There are no white paths through the sky, and very few humans are around. Do any of you know what is happening?"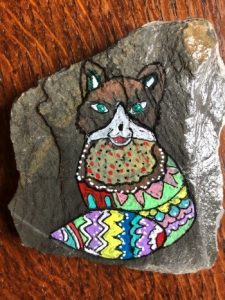 Roxy Fox muttered, "Maybe they've all died and a good thing too. No more hunts."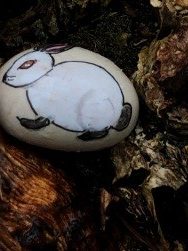 Little white rabbit, a throwback to an ancestor who escaped a life in a hutch, said, "I don't think they have died, but something serious has happened. Whatever it is, we're all safe, so I don't care."
Just then, Ratty spoke, "I was visiting a dustbin at a house in the village and heard them talking. It appears there is a sickness amongst them, and they all have to stay in their houses. They are only allowed out for a short time, and they must not go too far away from their homes. I don't think there is anything we need to worry about."
The field mice all squeaked agreement. "Yes, we heard that too. But they still walk their horrid dogs who chase us so nothing new in our lives."
Ratty for once felt kind and said, "If you are out and see a dog, you can come and shelter with us."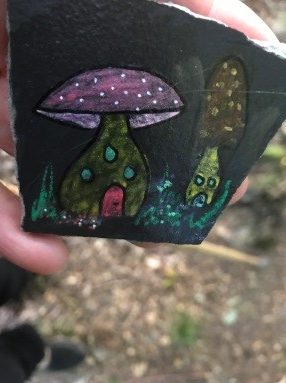 Roxy said the same thing too. For once, the mice felt part of the bigger community.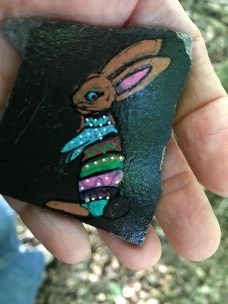 Dame Badger spoke, "Do you remember when there was an illness which attacked and killed so many rabbits? I think this might be the same, but this time it's attacking humans."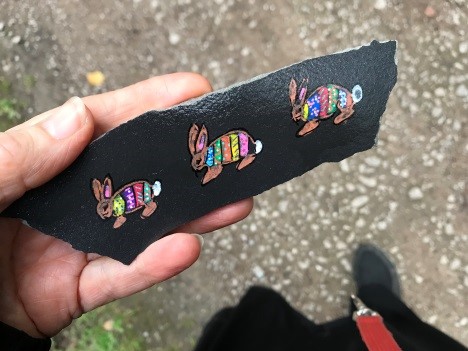 Rabbit muttered, "Good thing too. I hope it kills all the humans off, and we get left in peace."
Silabet said, "Bunny, I know your kind have had a bad time but let's not get nasty."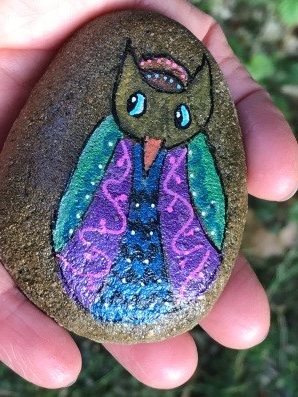 She looked about her. "So it's something only attacking humans, so there's  no need for us to worry. Thank you all for coming. Good night to some and good hunting to others."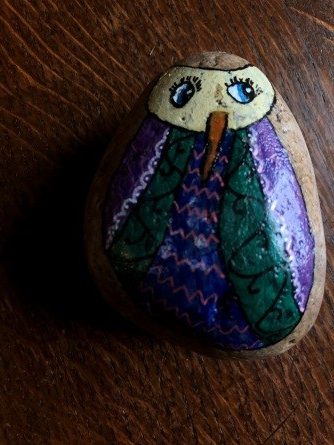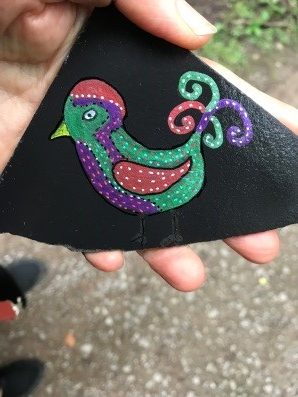 Silently they all left to go their ways, and Silabet went off to hunt. She hunted far away, so she did not eat the mice friends who lived near her tree. Robert flew with her as they went past the human's lights. They flew into the dark on the other side of the human village down towards the river.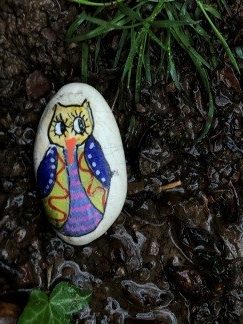 ---
Fiona Shannon – Hummingbird (Song)
This song reflects upon the nature of the Hummingbird and how it is the centre of all things. It talks about the connection between all living things and the delicate nature of that balance.
Listen to the song here
---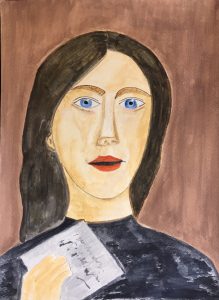 Francis Marriott – What Has Been and What Is Yet To Come (Watercolour)
In the darker months thoughts turn inwards, a time of reflection, rest and preparation. Here a letter ignites a young woman's thoughts of what has been and what is yet to come.
---
Georgie Meadows – Thoughts (Ceramic)
During the winter I saw so many images of health workers exhausted and traumatised, here this man is taking time out to rest and reflect on what he has just been through.
---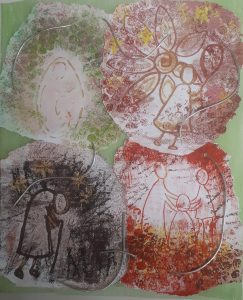 Georgina Watson – Four Seasons of Life (Print)
I had a Granddaughter born prematurely a week before the initial lockdown and I lost a very good friend before it has lifted.
---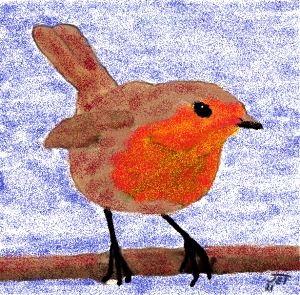 Jan Tyler – Robin (Digital Drawing)
Picture created on computer using Microsoft paint for a birthday card. Robins seem to be loved, are easy to recognise, sing a lovely tune and bring a splash of colour to a winter day.
---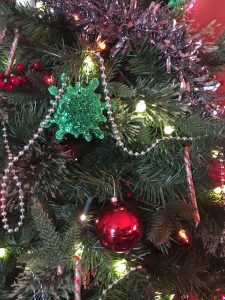 Jane Rennard – COVID Christmas Bauble (Sculpture)
After a year of enforced rest, we reflected on the global pandemic s**t and made salt dough COVID Christmas baubles. You can't polish a virus, but you CAN roll it in glitter.
---
Jean Florence – Tree Creeper (Poetry) 
In winter all kinds of small birds roam together in feeding parties, presumably partly for protection from predators when the trees are bare. Fun to meet when you're out for a walk, but I've spent many solitary hours just sitting watching the on-going party on the feeders in my garden. Lucky for birds they don't have COVID restrictions.
These winter days the tits and finches flock the
feeders flitting from hedge to branch to perch and back
while blackbirds feast on withered crabs so plenteous
they forget to fight.
Today my eye is caught by movement on the
mulberry tree coming and going as she spirals the
trunk her curved beak probing with each pecking
step, a little mouse like bird with mottled
back and bright white breast. One of a kind she
shares a page in my book with the nuthatch as,
oblivious of each other, they share the tree.
A natural loner, having no kindred with whom to
flock, she seeks protection from the busy
crowd as, self- contained and purposeful,
she grooms the tree
and lifts my heart – as kindred spirits do.
---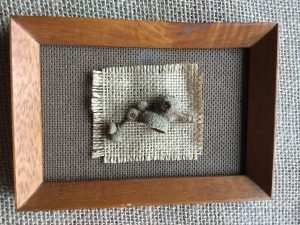 Jennie Davis – Mighty Oak Seeds (Textiles)
I have collected these "tiny" acorn cups in winter. It is amazing to think that the "mighty" oak will grow from something that looks so dried up and dead.
---
Jolie Marchant – Requiem to a Lost Twin (Poetry)
I wrote this poem during the early months of 'lockdown'. While spending time alone my thoughts trailed to the past. As a child I felt 'someone was missing' then later at 21yrs of age, I learnt I had been one of a twin. We were born in 1947 and my twin sister died at birth of cerebral palsy. The poem begins where it takes us through stages of being separate, then awareness of each other, touching and communication…
You nudge against my liquid bones
as foetuses we stir.
Amniotic fluids echo
where oxygen and nutrients flow.
Together we wait and sleep.
Within our pear-shaped cavern
harmonious we float,
immersed in hums of heartbeats,
soothed by symphonic sensations.
Together we wake and glide.
Mutating fingers reach out.
Familiarity sensed,
exploring this swirling space
where limbs stretch and curl.
Together we seek and share.
Our mouths open, heads turn,
enthralled we bubble.
Gentle kicks ease our way
as we tag and tail in shadows.
Together we whirl, tempo pulsates.
Transcending devotion,
within this ebb and flow.
Entranced, we listen
as muffled murmurs, music
and song invade our enclave.
Roused now and restless
we traverse the womb.
Bouncing in unison
impatient, in suspense.
We leave soon.
Panic pulsates, around me.
Danger! A quickening rush.
You quiver and struggle
shackled by the tangle
of your tethered cord.
Chaos ensues.
Thrust from me, you're set free.
Rushed, rallied and raised,
along your burdened trail,
I track your pain.
I enter a world
of cotton-wrapped commotion.
Your presence clings, a shadow,
a smudge of breath
against my dimpled skin.
Through a veil of grief
I burst into life, find my own breath.
I'm cuddled, a bundle cherished,
tickled pink, but not to death.
Solace for a lamented loss.
Into a celestial place,
sister dear, you're fading,
like a half remembered dream.
A lost soul,
sheltered in my distant memory.
---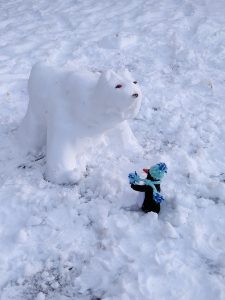 Jude Black – Winter Birthday Bear (Natural Materials & Textiles)
How excited I was to see the forest covered in snow on my birthday in January. I created this snow bear whilst enjoying a lovely walk. He is joined by a penguin that joined us before settling down in a fairy door that somebody has put onto the base of an old oak tree.
---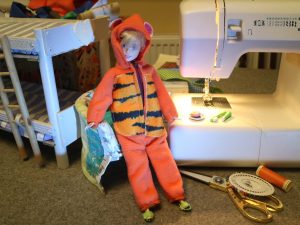 Kate Farminer – Small Comfort (Textiles)
Over the year I began to miss my beautiful grand-daughters enormously – I'd finished all the obvious tasks at home, tried painting and knitting, walking and chalking – I needed the task-less-usual to fill the space. Sewing machine and modelling clay! A series of Sindy outfits, posted in tiny Grandma-made-it parcels. Nurse's scrubs for lockdown, bedding for a fresh Sindy-Spring clean; picnic sets and fishing nets for our virtual Summer, micro hand-knits for Autumn days – and Tigger for sending Winter-snuggles, as Grandma cuddles down in a Tigger onesie herself. Small Comfort.
---
Kate Fedden – Lockdown in Stroud Cemetery (Poetry)
I am submitting this poem under the theme 'Winter' as it feels like the ending of something, coming to terms with what has gone before, but also suggests a start of something new, a hope of new life to come. The title and first four lines came to me last November during the third period of lockdown when I was taking my daily walk up a steep hill to the old Victorian cemetery in Stroud, now a wildlife sanctuary.
The country's in chaos;
The towns are in turmoil –
I toil slowly up the hill
To the graveyard quiet and still.
Merchants' memorials in granite or marble
Stand here abandoned, some leaning, some fallen –
A pillar, an anchor, an angel in stone.
Stones for the gentry, the clergy, the millers,
Of sandstone or gritstone, of slate or of Hornton,
Of Purbeck or Portland, with borders and gravel.
For weavers and fullers, who've left their vats and looms,
Crosses mark more modest tombs.
The workhouse stands across the road.
Paupers are here: no cross, no stone
Nor mark nor mound disturbs their ground.
Nothing to show where they are gone –
Bodies put into the earth,
In death and life of little worth.
Railings are rusty; the chapel's for sale.
Saplings are sprouting; the grass seldom mown,
Orchid and oxeye, mullein and mallow,
Butterflies flourish, the wasp and the bee,
Adders in brambles, basking by day
Slow worms find shelter; glowworms in July
Lizards and ladybirds; hunters and prey.
Now the lichens and the rodents,
Rare plants and insects are at home:-
Their lives are sheltered and preserved
Secured by monuments of stone
The living here protect the dead;
The dead protect the living here.
Does this atone?
---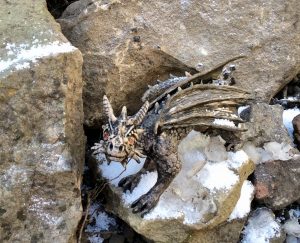 Lesley Luker – The Winter Rock Dragon (Polymer Clay)
I made this dragon during some particularly gloomy Winter days as I've been in isolation since March 2020! He is made from Polymer Clay my favourite for models at the moment.
---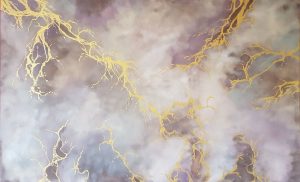 Lin Corcoran – Winter Thoughts (Acrylic)
Inspired by a stormy winter sky, but lifted by the gold of the festive season.
---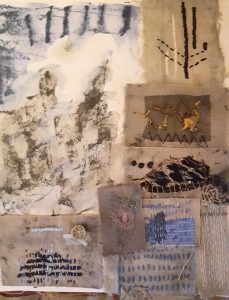 Linda Harvey – Cold Sleep (Textiles)
The earth is bare, frozen in its darkness, smothering grey awaiting new beginnings.
---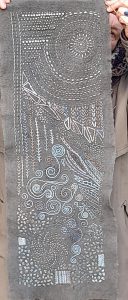 Lizzie Godden – Mending Dad's Blanket (Textiles)
My late Dad had a favourite woollen blanket. This Winter I dyed a piece of it and embellished it with stitch, inspired by the many colours of the moody Winter sky, remembering my Dad as I stitched, reflecting on his love of the outdoors, of the seasons, of walking with him in Winter. I dyed the blanket and threads with plant dyes.
---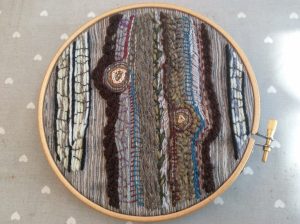 Lorna Stubbs – Winter (Textiles)
Gnarled tank and bark of the old Oak contrasts with the paper-thin silver white of the nearby birch trees. How lucky we are with our neighbours, the trees of the Forest.
---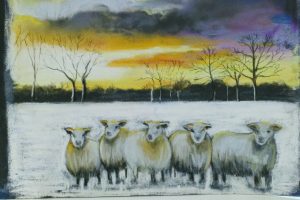 Maureen Lane – Winter Morning (Pastels)
This piece depicts the scene that can be found in winter in the Forest of Dean, where I live.
---
Mildred Bluett – Winter (Poetry)
After taking part in an Artspace Creative Writing zoom session, I felt that I would have a go at writing a poem, something that I have never done before. I really enjoyed writing it which surprised me as when the Zoom session started I felt totally out of my comfort zone. It is amazing what we can do if we just put our mind to it.
Wind, wind, wind,
Rain, rain, rain,
Cold, cold, cold,
Sometimes snow, snow, snow.
Phone rings, rings, rings.
Friends chat, chat ,chat.
Now warmth in friendship enveloped in caring love.
Isolation brings unexpected emotions,
Sharing happiness, sadness, cares and worries.
Can we see through this mire of emotion?
Can we cope with this isolation enforced upon us?
But brighter days will come,
The sap will rise,
The trees will blossom,
The Lark will sing,
Spring will come.
Hang on and smile, there is a lot to look forward to.
---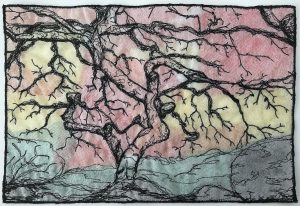 Morag Potter – Winter Sunset (Textiles)
I love the winter skies with glorious sunsets and stark tree silhouettes. Inspired by an online art group challenge, I machine stitched this tree in a continuous line, apart from when I ran out of bobbin thread! This was originally the reverse side, but I prefer its subtlety to the bright colours on the other side. This is the first piece of proper free machine sewing I have done for quite some while due to various health issues, so it was a joy to stitch.
---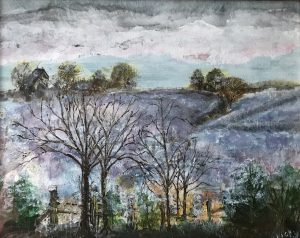 Nicky Bale – A Frosty Landscape (Acrylic)
I have no prior experience or training and at the age of 62 and during lockdown I converted my garden shed into a 'She Shed' and treated myself to some paints and an easel. I can get ' lost' whilst painting and missed being out there in the Winter so have had an electric line and lighting installed. I wouldn't have found this new hobby if it wasn't for Lockdown as I wouldn't have found the time, now it's my priority.
---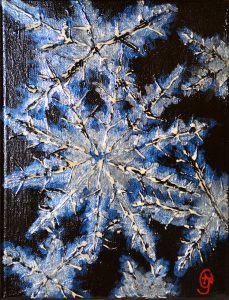 Nigel Gisby – Frozen in Time (Acrylic on Canvas)
The frozen snow flake slows us down helping us to rest in our homes reflecting on the year that has just passed. Taking stock of how lucky we are to still be here as many have not made it through the year. Nature is still there giving us time to reflect on times gone and times to come. Building strength for the spring and summer to come.
---
Penelope Weedon Kerr – Two Objects (Poetry)
During one of [Artspace artist] Liz Bell's very enjoyable sessions, she suggested we write about two objects: one which we had used a great deal more and the other which we had used a great deal less during the Pandemic Lockdown. I opted for my reading specs and my favourite shoes.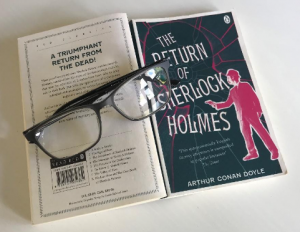 I'd ceased to be an avid reader long before I bought reading specs, so I ordered the plainest on offer. They proved mediocre, both cosmetically and visually.
"Shouldn't these change my life?" I asked the optician at my fitting. 'Words are still swimming in pairs across the page!"
"Ah, that tells me you need a prism" he said, taking back my spartan black frames. "They'll be ready in a week."
The transformation was, aptly, spectacular. Being so cheap, they sat lightly on my often broken nose and words coalesced into black, static print. I tried a book, one I had loved as a child – Sherlock Holmes. My visual appetite returned. During an all-night session, I enjoyed once again the rush of language through my brain and wished I'd kept more books. But with my iPad newly in focus, virtual literature now floods my life, a breached dam of escaping joy.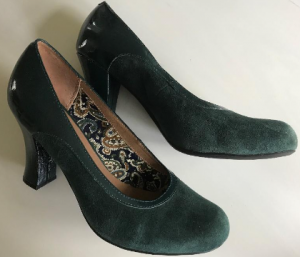 I dusted my favourite shoes this week, revealing the 'is it peacock or is it jade' suede, the bands of faux crocodile skin, the almond-rounded toe and the 'over sixty, but still going for it' high heels.
My beloved gave me these when my feet first started to hurt. The perfect compromise – Hotter Shoes but schprauntzy. They used to go walkies weekly, inspiring me to wear nylons and nifty skirts. But now we don't exist below the waist. And what a waste! Such footwear refuses to be teamed with baggy tracksuit bottoms and has inched backwards into the shadows of my wardrobe.
It'll take private practice to master my Hotter heels again, but what a glorious day when they come out next, topped by a dress and tights, jingly jewellery, actual styled hair and make-up, for a trip to Cardiff, a pub supper and some glorious music in St David's Hall!
---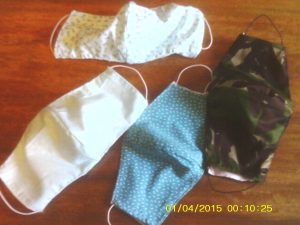 Penny Ballinger – Face Masks (Textiles)
I began making masks from scrap fabric early in the pandemic, when there were shortages even for healthcare workers who were risking their lives each day. At the time, the government still seemed to be divided on mask wearing. Yet Laura Spinney's account of the 1918 pandemic, 'The Pale Rider', indicated that wearing face masks may have cut the death toll in USA cities by as much as 50%. Perhaps if we had reflected on the evidence from the past, official advice might have been the wearing of masks sooner, rather than shaking everyone's hands!
---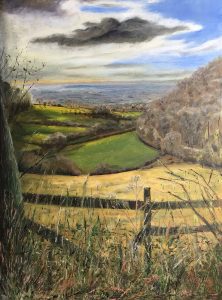 Pip Deave – Stathern (Oil)
This scene depicts a view of the village of Stathern in the Vale of Belvoir, Leicestershire, in February. It was painted for my sister-in-law who was brought up here and turned 60 during lockdown shortly after her mother, who was 89, died. My mother-in-law was inspirational to so many people. One of the first women to be ordained in the Church of England, she prayed every day during lockdown for the village, firstly in her garden, then, when allowed, in the church.
---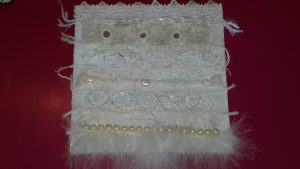 Popi Chadwick – Winter White (Textiles)
This piece is a box frame with silk, glass stones, feathers, beads, sequins, wool, lace and buttons sewn directly onto the canvas. Measures 20cm square.
---
Rex Turley – Taking Flight in Lockdown (Wood Carving)
My art piece is a carving of a Buzzard, the reason I chose winter is because during lockdown I have had time to rest. I find that carving in wood helps me to relax and before I know it, I've been in my shed for a number of hours. The Buzzard is carved in pine with hand tools – gouges and knives. It's taken 14 months to complete and painted in acrylics, with pyrography detail on the feathers; the talons are wire-framed, covered with milliput epoxy putty.
---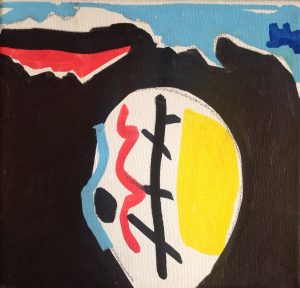 Roger Ryan – Egg Waiting For Spring (Mixed-Media)
---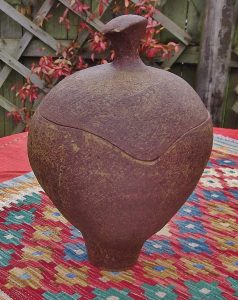 Rosie Clarke – Resurgence (Sculpture)
I made this piece by hand on my dining table, having spent the spring, summer and autumn learning to throw pots on my wheel. As winter approached I wanted to stay by the fire in the house, and slowly built this, adding a few inches each day so I could achieve the narrow base without it collapsing. I was inspired by a seed pod I'd found in the early autumn and like to think that within the structure the beginnings of a new lives are stored, awaiting the spring. It was very therapeutic to build, I could let my mind wander as I smoothed and pressed the textured clay.
---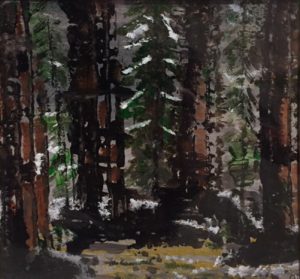 Sally Gee – Depths (Acrylic & Pen on Recycled Card)
I appreciate the stillness of winter, trees surrounding me in our beautiful forest. I am awe struck by their skeletal beauty and stillness, their strength. Readying themselves for spring – not unlike ourselves as seasons and difficult times pass.
---
Sally Hayward – The Only Way Is Up (Poetry)
My name is Sally Ann and I live with my partner Mike and Toby our cat. For my hobbies I write poetry, stories and acrostics, going for walks and playing Scrabble. Unfortunately I have never been able to work. This was due to a road traffic accident at the age of a 11 years. So I have got a lot time to write. I have been very lucky to have some of my poetry published with the United Press in London, my GP also had a poet into my doctor's surgery in Dursley and I contributed some of my poetry and named the book Doorways. Wherever I go I make sure that I have got a pen and a notebook with me. So if I get inspired I am ready.
Sat outside in all weather's and remain to have a smile on my face.
Dreamt of going up into space and decided differently.
Apply to go on Britain's Got Talent; they sent me a form to fill in, will I get a chance to win?
To begin with there are a lot of peoples going to apply.
Awaiting patiently for their reply. Days turn into weeks and within three months; a letter drops through my front door.
Tore it open and have been invited to go for an audition. The nearest place from me is Birmingham.
Best to check out the trains, as with a taxi I'm bound to get into a traffic jam.
---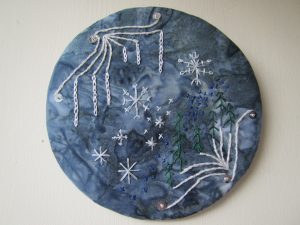 Sharon Shirley – Snow Day (Textiles)
The fabric said winter and just asked to be stitched with snow and ice patterns.
---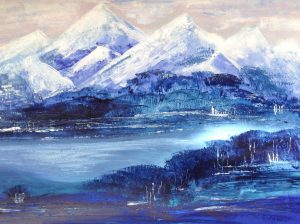 Sheila Croney – Frozen (Acrylic)
This painting was inspired by a photo of the Cairngorms in a travel magazine. I painted it in a couple of hours just before Christmas, thinking I'd use it to make my Xmas cards.
---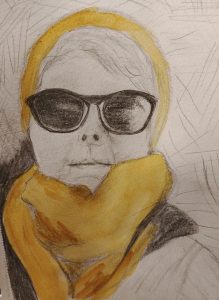 Steph Smith – Self Portrait (Pencil & Watercolour)
This picture is drawn from a rare selfie, taken whilst on a snowy walk on the Green at Newnham, where I had gone to take photos of the stunning views towards the Forest across the fields, and, behind me, down to the river going towards Awre. I don't know what made me take a selfie. It's something I hardly ever do. When it came to the sketching later I was not particularly hopeful of a good result, being far from an accomplished artist. So I was pleased when it turned out quite well. I slapped on a bit of ochre watercolour for my woolly hat and scarf. I like the sunglasses. It gives me a bit of mystery. And you can't see how old I am!
---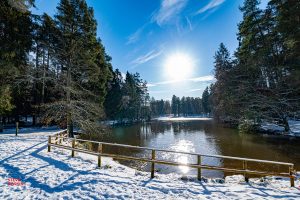 Steve Gaskin – Mallards Pike in the Snow (Photography)
The Forest is beautiful in every season. Spring breathes back life and summer proudly shows off its beauty before the warm colours of autumn slowly fade into the starkness of winter. But winter has its own beauty and when the snow falls the evergreens stand proud and the rush of ice cold water flowing into the streams and pools sparkles in the winter sun bringing drama to the landscape.
---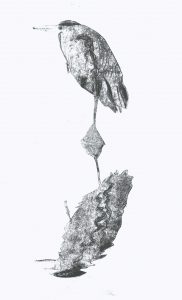 Sue Bamford – Grey Heron (Monoprint on Paper)
This piece is a monoprint I did in December 2020. It's based on a photograph I took some years ago in North County Dublin. The chosen theme of winter is a literal interpretation of rest and reflection – the heron is motionless, and appears clearly reflected in the still water.
---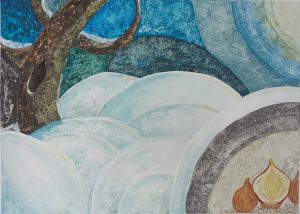 Sue Evans – In the Deep Midwinter (Acrylic)
The circles and curves in this picture remind us of the circle of life. What goes around comes around. Yet even on a stark, frozen night, there is beauty all around. Quietly, in peace, the freezing earth cossets a kernel of new life. The world is not dead, but resting. There is hope of new life.
---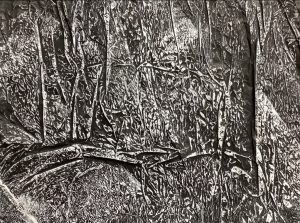 Sue Goodlass – Winter (Print)
Inspired by a photograph taken on a winter walk in Ashridge Forest in Herts, close to where we used to live. During lockdown we were thankful to live in the Wye Valley with access to nature at its best and to be able to reflect on its beauty every day, no matter what the weather.
---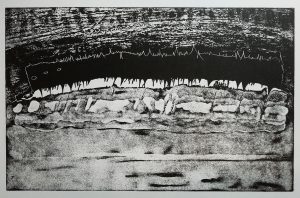 Tabitha Fedden – Rose Prunings IV (Linocut Print)
The subject matter of Rose Prunings IV is a bit of stalk from a prickly Maigold rose. I have made several prints using my collection of old rose prunings over the last year. This one is a linocut with caustic etch, traditionally printed with black ink. I think it relates to the theme of winter as the light shines low through the thorns, creating long, wintery shadows which produces an austere and slightly menacing image redolent of this season.
---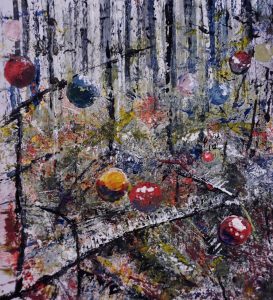 Tracey Dixon – Woodland Baubles (Acrylic)
A chilly morning before Christmas I walked to the woods behind Castlemain Depot in Parkend where each year someone hangs baubles on young fir trees growing beneath their parents. Its quite magical. Melanie Clarke's workshops on mono-printing inspired me to try using elastic bands, string, feathers, sticks, corks and netting to create this picture.
---
Val Ormrod – Breathing Free (Poetry)
When this is all over
I'll come to find you
hold you and hug you
once more.
I'll wheel you out from your musty room
wrap you in a fleecy jacket
wind a scarf around your neck
pull a woolly hat down over your ears
and take you for a drive in my car
even have the roof down.
We can have the heater turned up high
but you'll be free
to breathe the country air.
We'll drive through the forest
with sunlight slanting through the trees
and leaves will spiral down
like confetti
on your shoulders.
We'll stop for fish and chips
and I'll pass you the warm parcels to hold
with their intoxicating aroma of vinegar.
We'll eat them from paper
in our bare hands
and lick the salt off our fingers.
Then we'll drive on
and your hair will lift in the breeze
and you'll laugh again
and the sound of your laughter will be
the best music I've heard all year.
---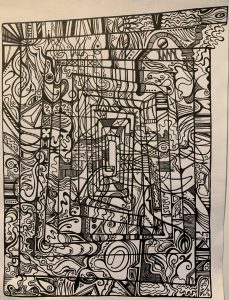 Vanessa Stratford – Thinking, Not Thinking (Fine Line Pen)
The concentration needed to create my work helped to block out everything around me. I do not handle isolation well and being separated from my children and friends for such a long period of time caused me great stress and anxiety. My drawing took that away.
---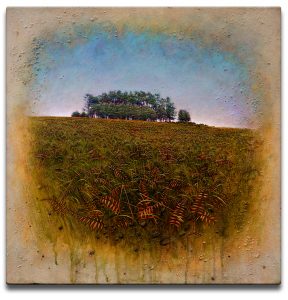 Warren Day – Winter Bracken on May Hill  (Acrylic & Mixed-Media)
May Hill is a well known local landmark and famous for its views across the forest and further beyond. Whilst walking up to the top one winters day, I was inspired by the warm colours of the bracken against the cold colour palette of the landscape and the temporary atmospheric lighting as the sun began to rise. Being such a high vantage point seems appropriate to look and reflect upon things and take a moment in the stillness.
---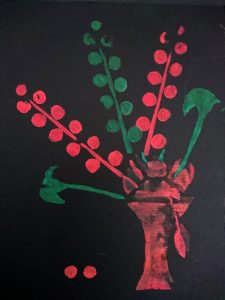 Wendy Tyrrell – Berries (Print)